Lunch at La Parrala, San Pedro de Alcantara, December 2017.
by Morris Bishop
(San Pedro de Alcantara)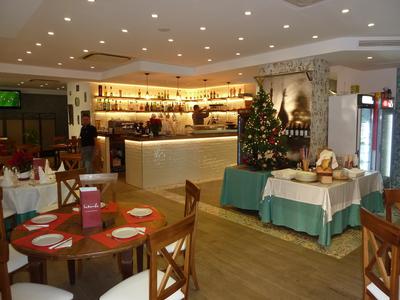 bar area and part of the dining room
Opened in September on the site that was La Routa de la Plata, la Parrala is one of those eating houses that tries to be 'all things to all men' with offerings of Tapas, snacks, salads, burgers, Seafood, some Chicken, and Beef dishes, and Paella. With about 40 covers inside and a further 60 on the open terrace that has a canvas roof and sides and is only for the more hardy diners in the present cold weather. A rather cold looking bar area that seems to be well stocked, and table settings that are nice enough and although the norm is for paper serviettes, linen ones are available. A somewhat over lit dining area and with parts of the kitchen open to view does nothing to help make this a tranquil experience, especially with the owner Pablo seemingly on the move all the time.


Our party of 4 chose chicken wings, Black pudding, and a dish of Manchego cheese to share for starters, followed by grilled Dorada (not on the menu) with a mixed salad and chips , Avocado and Prawns in a Maryrose sauce, and grilled Lamb chops with chips. Although the chips that accompanied the Chicken wings were tasty and well cooked, those that accompanied the fish and Lamb dishes were neither. Except for the chops, the rest of the meal was tasty and plentiful, the Lamb however was bordering on being unacceptable. We finished the meal with what became the highlight of the meal – a three chocolate Gateau and a flan in caramel sauce, both were delicious.
The jovial Maitra D Raphael was helpful and informative, and chef Feliz gave us some hope that the elusive element of consistence may be within his reach! - May be if we return in 6 months it will be a different story.
The VS.
La Parrala is in the pedestrian passageway C/ Avila number 2, near the El Corte Ingles supermarket and opens for Lunch and dinner from Monday to Saturday and for Sunday Paella Lunch. Street parking and adjacent to the children's playground just to the west. Average 3 course meal 25€ . No Menu del dia.
Phone 952788135
Bishlin Guide marks out of 5
Ambience:3
Food:3.5
Menu:4
Service:4
Value:3.5
O/A:3.5
Please mention to the restaurateur that the restaurant was recommended in the "MarbellaFamilyFun.com" Newsletter. To see even more reviews on the best restaurants in Marbella, check out The Bishlin Guide.