Lunch at El Pozo Viejo Marbella old town December 2014
by Morris Bishop
(San Pedro de Alcantara)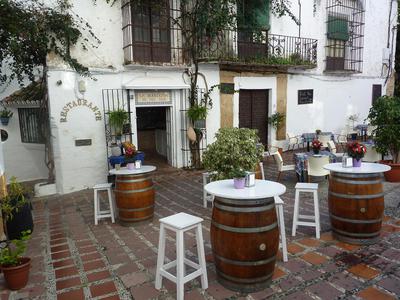 El Pozo Viejo
Over a half a millennium ago, the first Mayor of Marbella built his house, and excavated the one and only well in the then village of Marbella. The house still stands, albeit extended many times, and it became known as El Viejo Pozo. (the old well)


A lot of the character has been retained, including the old well and many beams and tiles. There are several eating areas, one called "the secret garden" seats about 40 and a forecourt at the front with further 50 covers. The dining room seats about 50,
Having been closed since 2011, Maria and Elio, revived the eatery during the summer of this year, and have stamped their Mantra on the old well with an exciting menu. With rave reviews, and a trip advisor ranking of 29 from 911 Marbella restaurants, our expectations were very high.
But this was a "cool deal" visit, and for this, there was a special menu, which consisted of a choice of 4 starters to share, followed by 4 dishes from which to select your main. Comparing this to the menu proper where there are 26 starters and mains, made for an
unnecessarily restrictive process. OK let them charge a supplement
for certain dishes, but their object should be to WOW the diner.
There were many other dishes that I would have preferred to have tried. As it was we chose a Buckwheat salad with melon, apple, and nuts for our starter, and DB ordered the Entrecôte steak with potato wedge chips and mixed vegetables, and for me, the Dorado with a herb infused potato fondant and mixed vegetables, (see photo) Most of our meal was cooked and presented well, but I don't think having the head of the fish on the plate added anything, and DB didn't realize when she ordered her meat 'Poco Hecho' (rare) that the steak would only be one centimeter thick, and therefore lost a lot of its juices and ended up somewhat chewy. Desserts for me a chocolate mousse, and for her, one of their signature dishes, Strawberries stuffed with Crème Brulèe with mango pieces, both were delicious.
Was our experience a-typical? Was it the principle chef cooking for us?, I don't know.
The vital stats:
El Pozo Viejo can be found at Plaza Altamarino in Marbella old town
Reservations on 952822557 or email hola@elpozoviejo.com
Web site www.elpozoviejo.com
Their day of rest is Tuesday, and they open for Lunch and Dinner for the rest of the week
Underground parking in La Alameda or in Calle Felix Rodriguez
Average 3 course meal with wine, tip and cover charge 50€
Will we return to appraise a more normal visit, I am not sure,
but based on our cooldeal visit Bishlin marks out of 5:
Ambience 4
Menu 3
Food 3.5
Service 4
Value 4
O/A 3.5