Lunch at El Cortijo, Cancelada, January 2018
by Morris Bishop
(San Pedro de Alcantara)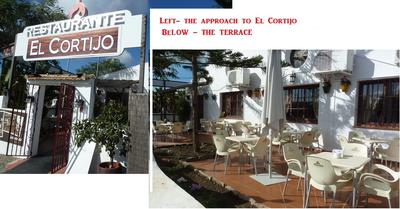 the approach to El Cortijo
A friend of ours mentioned that what was El Horno in Cancelada that closed its doors some time ago has reopened as Restaurante El Cortijo just 6 weeks ago. The rooms are little changed from before, being split into a principle eating area seating 50 with a well stocked bar area adjacent, and a secondary room with about 70 covers. Both having the same' bolt upright' chairs, but the 30 seater terrace has arguably the more comfortable plastic ones.


Elisabeth and Antonio, the new owners, have introduced a 'menu del dia' besides the A la carte and 'Kids menu. The MDD's main feature is its value for money – quite remarkable that it has a choice of starters, mains , dessert, and a drink of your choice, all for 9€ including IVA. This is all very well but what are they prepared to offer you for this amount of money. Well, starters of Chicken Soup, Mixed tuna salad, and White Asparagus with Mayonnaise and for Mains, Ribs with Chips and salad, Fried Cod with Chips and Tomatoes or a pasta dish, then a selection of half dozen desserts. And to wash it down a glass of house whine beer or water.
Both starters were well presented, tasty and plentiful, however for the main course the Ribs were overcooked and my Cod consisted of tails, but hey, for 9€ and with sufficiency of size, acceptable flavours, and a drinkable wine, the value factor has to be a 5.
Their A la carte looks tempting enough for us to give it a try, though prices are more normal, we will be returning later in the year to see what chef Mohamed is made of, so watch this space.
The Vs.
El Cortijo can be found in Urb. Cancelada C/Loma de Retmar, 27 Exit the N340 at Bel-Air, coming from the East cross the round about second exit and at the next round about turn right into Marques del Duero and at the top do a left right dog leg, then at the 'T' junction turn right, at the end of this road turn Left and the restaurant is 200m on the right. Coming for the West exit at Bel air and cross over the N340 then follow the East bound instructions. Reservations on 951567878 or citremar@yahoo.com. They are open every day from 9:00h till late. Sunday lunch is a traditional Roast. They have their own off road carpark. Average price of a 3 course A la cart meal with wine 40€ Belarusian Larisa is the Maitra 'D. who speaks good English.
Bishlin Guide marks out of 5
Ambience:3.5
Food:3.5 (for MDD)
Menu:4 (for MDD)
Service:4.5
Value:5
O/A4
Please mention to the restaurateur that the restaurant was recommended in the "MarbellaFamilyFun.com" Newsletter. To see even more reviews on the best restaurants in Marbella, check out The Bishlin Guide.