Le Papillon Marbesa Playa Real
by Morris Bishop
(San Pedro de Alcantara)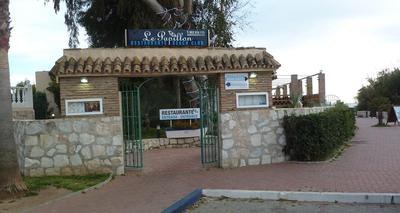 La Papillon
Ever since my wife Dizzy attended a World Woman's day lunch last year she has extolled her praises for this eatery, and when I saw an advert that Mandy L. was to sing there this evening, this brought Le Papillon to the top of the list. Few restaurants can compete with the idyllic beach side setting of this 80 cover fine dining experience. The comfortable, understated Interior is discreetly lit and being literally on the beach virtually every body has views of the Med and the sky at sunset beyond. So much for the bricks and mortar, but will the cuisine live up to our anticipation?

It would be hard not to find something to please from the extensive menu that has many of our favourite dishes on, and our party of four chose Tempura Prawns with an Ali Oli dip, Deep fried Camembert with a red fruit marmalade, and a half portion of Spaghetti Bolognese (more of this later) for our starters. Our mains consisted of Sole with Prawns, Crispy Duck in a Plum sauce and Basmati rice, and Beef Stroganoff with Basmati rice. All agreed that the flavours that the Bulgarian chef achieves are deserving of a yummy vote of 5 out of 5! Quantity, quality and Presentation were all excellent, indeed I could hardly find any fault with the meal. If I'm being really nit picking, I prefer my Bolognese sauce slightly moister, but that's it!

I must explain that there is a fixed price ' Kids menu' of main and dessert, and on our bill, and I had been charged for this instead of the half portion of spaghetti which only amounted to a 4 or 5 Euros difference, and on querying, this with the waiter, he did not take kindly to this, and so I dropped the matter. I suppose I should have raised this with Manager Joaquin, but being with company and just about to leave I was reluctant to do so. Perhaps a little schooling in diplomacy! However we all thoroughly enjoyed our evening,helped to no small measure by the angelic voice of Mandy.

The V.S
Le Papillon (French for butterfly) is a little tricky to find, but approaching from the west, take the next (minor) exit after the Elvria bridge on the N340 coast road, turn left at the first round about, straight over the next junction, then fork left (3rd. exit at the next junction, finally turn left into the car park. This is less than 1 km. from the main road. They open every day from 10 am. Till late. Average 3 course meal with wine 40€. Reservations are strongly recommended especially at weekends on 952834113 You can download a PDF menu and make a booking from www.restaurantepapillon,com
Their plate warmer is currently out of action so I suggest, If you insist in hot plates and they will comply.



Bishlin marks out of 5,
Ambience: 5
Food: 5
Service: 4.5
Menu: 5
Value: 5
O/A 5
Please mention to the restaurateur that the restaurant was recommended in the "MarbellaFamilyFun.com" Newsletter. To see even more reviews on the best restaurants in Marbella, check out The Bishlin Guide.
DATE: April 2016