La Vianda Marbella
by Morris Bishop
(San Pedro de Alcantara)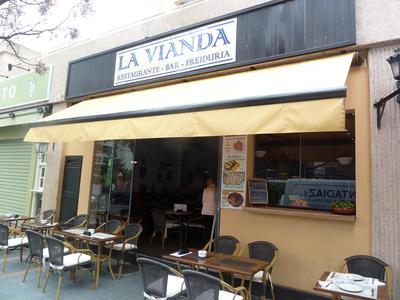 La Vianda
A typical Spanish Tapas bar Restaurant, they also call themselves a Freidora, which I later find out means a 'Fish fryer'. The restaurant seats about 30 inside with a Banquette along one side and a further 16 covers on the pavement. Quirky décor, I think Javier, the owner must have a penchant for old telephones! Quite a small menu from which we chose starters of Spaghetti Bolognese and Black pudding, with Lamb chops and Entrecote steak to follow, we finished with a chocolate mousse. All five dishes were tasty, generous, and with no pretension to be fine dining. But for all that, 22€ a head is excellent value, combined with friendly service in pleasant surroundings makes this eatery 'one to try' Though we didn't taste the Tapas, they certainly looked good - maybe next time!

The VS.
La Vianda in next door to the underground car park in cal. Ramon Gomez de la Serna
(one way street-eastward) They are closed on Sundays, and open for lunch and dinner.
Carmen was the friendly waitress (with very little English) there is a 8.50€ menu del dia.
Reservations on 952777994 or email laviandddamarbella@gmail.com

Bishlin marks out of 5,
Ambience:3.5
Food:4.0
Service:4.5
Menu:3,5
Value:4
O/A 4.

Please mention to the restaurateur that the restaurant was recommended in the "MarbellaFamilyFun.com" Newsletter. To see even more reviews on the best restaurants in Marbella, check out The Bishlin Guide.