La Sala | Nueva Andalucia
by Morris Bishop
(San Pedro de Alcantara)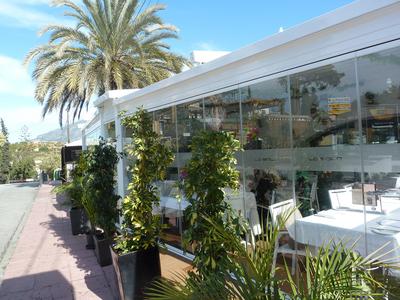 the new covered terrace
Changes to the alfresco deck area where about a third of it has now been enclosed in glass to make a separate 'all weather' dining room with direct access to the main room and to the shaded terrace.


It was a little too cold for the girls outside so thinking that this was the best of both worlds we opted to have our lunch in there, little did we realise the drawbacks that this would embroil us in.
There were three families with babies that were quite 'voluble' and on reflection I realised they had been isolated in there for that very reason! Then there was the sun, not being flowers we didn't need to be in a green house! Acoustically the room resonated with noise making conversation, for me, very difficult. We moved tables a couple of times but all to no avail. A few times I floated the thought that we should decamp into the main saloon but this was rejected because it was 'empty' and had no atmosphere.
But enough of my tale of woe, what about the food. One of the most important attributes for any restaurant is it's consistency, and La Sala never fails to please on all counts. With personal comment from each of the diners in brackets, from the expansive menu we chose starters of Fish Soup (gorgeous!). Canteloop melon with pate negra ham (yummy!), Jumbo Tiger Prawns with a sweet Chilly dipping sauce (plump and delicious!), and mains of Fish Pie (so much I had to have a doggy bag), Sole Meniere (as good as I've had), grilled Fillet Steak (tasty, tender and plentiful), Braised Lamb Shank (melt in the mouth). Fullness dictated that we pass on desserts. The usual exemplary service led by Maitra 'D Luke and waiter Bashar gave no cause for complaint, So here's to the next time.
The VS: La Sal can be found in Nueva Andalucia on Calle Belmonte that is to the right of the round about just 100 Mt. after going under the N340 from Purto Banus. Valet parking. Average 3 course meal with wine 48€. They have a discount locality card. Menu prices are subject to addition of IVA. As there are several eateries in the La Sala chain it is necessary to specify 'La Sala Banus when making a booking with central reservation. They are open every day for Breakfast, lunch, and dinner, Ask about their daily specials. Apropos chapter one, you may want to give extra thought as to where you will sit!
Reservation on +34 952814145 or
www.LaSalaBanus.com
Bishlin Guide marks out of 5
Ambience: 4.5 *
Food: 5
Menu: 5
Service: 5
Value: 4.5
O/A:: 4.7
*because of our experience in the glass house
Please mention to the restaurateur that the restaurant was recommended in the "MarbellaFamilyFun.com" Newsletter. To see even more reviews on the best restaurants in Marbella, check out The Bishlin Guide.