La Parrilla de Viviana | San Pedro de Alcántara
by Morris Bishop
(San Pedro de Alcantara)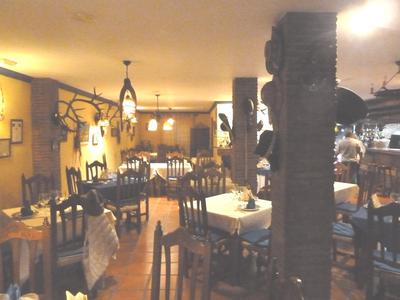 dining room
Why we had not heard of this eating house before I know not, for they have been in San Pedro for the last 19 years, as have we! I found This delightful family run restaurant by accident whilst browsing through TripAdviser, I found that this was number 3 out of 180 in San Pedro, so after a reconnoiter a few days ago, we were enthused by what the menu had to offer and decide to put this one to top of our 'yet to try' list. It was thus, on a blustery night we dine in the quirkily decorated room that had many ornaments and artifacts dotted about this pleasant rustic restaurant. All the Meat cuts that are used are on display in a chill cabinet next to the bar area, The table settings of linen cloth and serviettes, minimal background music, and subdued but sufficient lighting created a homeliness that few of their contemporary's manage to achieve.


An Aperitive of sweet Sherry greeted us before perusing the manageable menu that had so many things on it that caught our fancy, and with so few dishes that didn't enthuse us choice making became finding something that we hadn't had for a some time, so from the 30 starters we shared a duck Mousse Pate with toast and a fruit preserve, followed by two Beef mains of Stroganoff with rice, and an Entrecote steak served rare as ordered with a peppercorn sauce, both accompanied by Sauteed potato slices which because of the lovely taste tempted my wife who normally would not eat such things, to scoff the lot!
Jovial Chef-Owner Julio certainly knows how to put flavours into his ' well hung' meat that was to 'melt in the mouth' tenderness, and both mains were served on hot plates, to finish we share a yummy profiterole dessert. Even the colourful picture plates were in keeping with the décor, and the whole dining experience was one of pleasure, helped in no small measure by wife Maria and Brother Jose, both friendly helpful warm people. What a wonderful example of outstanding restaurateuring. I doubt if it will be many days before we will be returning to continue going through the menu! For return we certainly will.
The V.S.
La Parrilla d Viviana can be found in Avd. La Constitucion 20 mt. South of the junction with C/ Dr. Esteban San Mateo. Street parking. They open for Lunch and dinners, and their day of rest is Tuesday. Average 3 coarse meal with wine 40€. No menu del dia. . No website. 80 covers inside and 45 on the covered forecourt, that because of the weather conditions was not in use, so no photos
Reservations on 952783121.
Email julianruizrios1953@gmail.com.
Bishlin Guide marks out of 5
Ambience:4.5
Food:5
Menu:5
Service:5
Value:4.5
O/A:4.7
Please mention to the restaurateur that the restaurant was recommended in the "MarbellaFamilyFun.com" Newsletter. To see even more reviews on the best restaurants in Marbella, check out The Bishlin Guide.