La Ola Marbella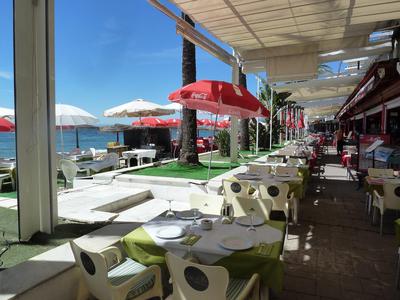 the view from La Ola restaurant
In a pleasant row of chiringuitos, squeezed in between La Red and Basilio on Marbella beach, just off the Paseo, is La Ola.


I give these details because there is no sign for this eatery, save on the top of the menus! It has been run for over 6 years by Belen, ably assisted by the helpful duo of Diego and Manola.
It would be difficult not to find something to please from the 100 item menu, and many of the dishes can be ordered in half portions.
Along with the Bar-B-Q, are 40 covers on the beach, with a further 40 under cover.
We chose for our starters, Muscles Marinera (with a garlic and tomato marinade) , nicely presented Gazpacho Soup, a Roasted red pepper salad, and a Pineapple and Avocado salad.
For mains we had grilled Sole, and the three others all plumped for the Bar-B-Q Sea Bass accompanied by a Tomato, Pepper and Onion Ratatouille. 'yummy' was the verdict from us all.
Friendly, knowledgeable staff are so important when it comes to making a lasting impression, particularly with the amount of competition they are surrounded by, but they,
and I include the chef in this, won our approval.
So guys and girls, when are we going back?
The stats:
La Ola can be found on Playa de la Fontanilla Arcos ,2, approach along the Paseo Maritimo down one of the two set of stairs down to the beach level, there is also wheel chair access 50 mt. beyond the westerly of the two. Surface street parking, and underground in Avenida Arias. (turn right on to the Paseo). Lunch all year round plus dinner in the summer months.
Web site www.laolamarbella.com
Reservations on 952857448 or email info@laolamarbella.com
Bishlin Marks out of 5:
Ambience 3
Menu 4
Service 4
Food 4
Value 4
O/A 3.5
Values are for Beach Bar genre
DATE: March 2015