La Fontina Restaurante
by Marbella Family
(Marbella)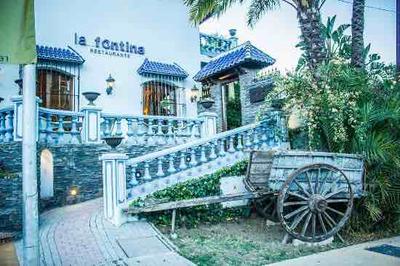 La Fontina Marbella Exterior
La Fontina Restaurante is a family-run restaurant with over 30 years of experience delivering high-quality culinary experiences for individual guests and large parties.

The restaurant differentiates themselves from others through their unique delicacies, product quality and amazing presentation. This is the place to come for a fine dining experience!

The setting is stunning; a colonial mansion with an incredible garden and beautiful fountain. You'll be surrounded by artistic landscaping amidst a cozy, family ambience that is also luxurious. This is Marbella's quiet elegance at its best.

La Fontina's meat selection is second to none on the Costa del Sol and they source their product from the best farms in the culinary centre of Spain. The vegetables are organic and the flavour will amaze you. Also available is a selection of wines which will compliment the best the best Mediterranean cuisine

MENU

Starters
- Acorn Iberian Ham
- Selection of Regional Cheeses
- Caramelized foie Micuit with Applesauce and Passion Fruit
- Bluefin Tuna tartare with avocado and Japanese mayonnaise
- Sea bass ceviche Classic Limeño Real
- Sirloin carpaccio with Micromezclum Flavoured Extra Virgin
- Olive Oil and Parmesan Sheets
- Campero tomato gazpacho with ham, Carpaccio of figs and almond extract tender
- Octopus Tentacle East Tempura, Grilled Finished with lime and salt Wasabi Keffir
- Special croquettes La Fontina

Salads
- Warm salad of prawns on spinach, chicory and vegetables sauteed with diced Feta
- Russian Salad with Tuna and Piquillo Pepper White Carbon
- La Fontina salad, tomato, fresh onion, olives, tuna
- Semiescabechado and paste Sesame Vinaigrette
- Warm salad of warm Crispy Chicken Crispy Chicken Salad, croutons, Parmesan blades and our Caesar Sauce
- Tomato and Fresh Mozzarella Salad with Basil Guacamole to seasoned with Extra Virgin Olive Oil Salt and Black

Pasta and Rice
- Soggy rice Lobster in point
- Black Sticky Rice with Stuffed Squid
- Carnaloni rice with Boletus Mushrooms
- Potato Gnocchi with Parmigiano Sauce and Balsamic Vinegar
- Tagliatelle with Marinated Salmon, the Whisky Flambé

Fish
- Taco Almadraba Bluefin Tuna Stew point with sweets Algae and Sake
- Wild sea bass baked with White Asparagus Sauce and Steamed Vegetables
- Club Sole Fillets with Hollandaise Sauce Gratin
- Salsa Verde Galician hake with asparagus
- Our tempura Pescaíto Mediterranean Sea
- Fresh fish sashimi, wasabi paste and soy East

Meats
- Sotel sirloin on our particular season truffle risotto
- Rack of Lamb with Honey Sauce and French Mustard Flowers
- Beef steak on the stone Beef steak on the stone (500 gr)
- Laminate Galician Veal entrecote grilled with Our Tximichurri
- Duck breast with mashed potato and banana and passion fruit sauce
- Oxtail Cordoba on Cream Potato Puree

Desserts
- Creamy tiramisu with Savoiardi, Wet in our selection of liquors and Lyophilized Aromatic Coffee Cappuccino
- Rice Pudding Classic, the Licorice with Caramelized Red Fruits deTemporada
- Artisan Ice Cream Cup
- Belgian Chocolate fondant on White Chocolate Soup
- Big bullion Cocoa cruss origin, Glazed Chocolate fluid accompanied by a delicate orange chantilly
- Semifreddo Passion Fruit, Milk Chocolate and Toffee Glaze

EVENTS CALENDAR
La Fontina hosts a continuous variety of events at the restaurant. For details, check their website, below.

COMMUNION & PARTIES
The restaurant offers a special menu for Communions and Parties. Price: 45 € / pp

HOURS
Tuesdays - Sundays, 19:00 - 01:00
Closed Mondays

CONTACT
Address: Avda. of Sunflowers, 23. Nueva Andalucía, Marbella
Telephone: +34 952 816 355
Website: lafontinarestaurante.com
Email: info@lafontinarestaurante.com

DATE: May 2015

For a complete listing of restaurant reviews, check out our Restaurant Reviews in Marbella.