La Fontina Nueva Andalucia
by Morris Bishop
(San Pedro de Alcantara)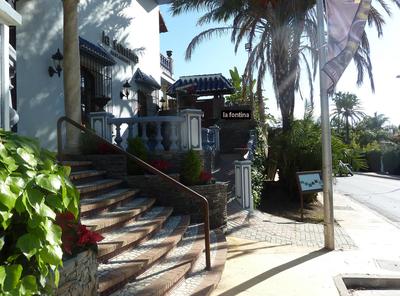 La Fontina
What a surprise to be greeted by Chris, who used to be the Manager at Petit Bistro and Nicky ex Tikitano, when we arrived at La Fontina to celebrate my wife Desiree's birthday. We were a party of four, eagerly anticipating the culinary delights, if what I read about this eatery was true. Oldie worldy elegance would describe the ambience, tastefully furnished with some 40 covers, and a further 50 in a wonderland of a garden for al fresco dining.

From the eclectic menu, we chose, beef Carpaccio. A warm prawn salad, lobster bisque, and a Peruvian Sea Bass Ceviche, in which the marinade called "Leche de Tigre" is made from Lime juice, hot chilly, and garlic, and I think the fish was left in a little too long, so it was very spicy hot, but delicious, I wonder if the chef is from Peru? Followed by mains of a Tuna and salmon Sashimi, and for the birthday girl and me a filet mignon steak each. Chocolate fondant in white chocolate sauce was the dessert shared by all of us to round off a memorable meal.


V.S.
La Fontina are in Avda. De los Girasoles, 26, which is the principle road into Nueva Andalucia , just west of the Casino. The restaurant is 800 m. on the right. Street parking
right outside. Average 3 course with wine 40€. Open for dinner only. Closed on Monday
Reservations on 952816355 or info@ lafontinarestauante.com To see their menu follow the link: www.lafontinarestauante.com
This was a Cooldeal on which there was some confusion as to what was left to pay for,
as the restaurant owners had imposed their own interpretation, which was in conflicted with the offer. However, good sense prevailed, so that it didn't leave a bad taste in our mouths!



Bishlin guide marks out of 5
Ambience: 5
Food: 4.5
Service:5
Menu: 4.5
Value: 4.5
O/A: 4.5
Please mention to the restaurateur that the restaurant was recommended in "MarbellaFamilyFun.com" Newsletter. To see even more reviews on the best restaurants in Marbella, check out The Bishlin Guide.