La Culinaria Restaurant
by Morris Bishop
(San Pedro de Alcantara)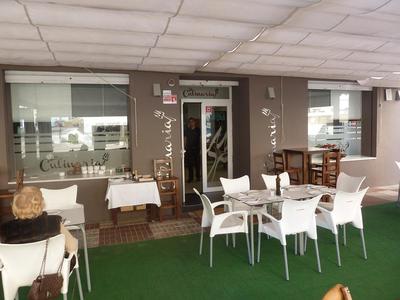 The terrace at La Culinaria Restaurant in Marbella
La Culinaria Restaurant Review - January 2015


Being impressed with the consistently good reviews (particularly with respect to their Tapas) on Tripadvisor, we decided that should be on our 'to try' list.
Some weeks later, having chatted up the chef-owner, Manola, we sat down to an early lunch. Unfortunately all the restaurant's tabled seats were booked for a party, and that left 6 high tables which we did not fancy. So we had no alternative but to sit on the pavement outside, granted with a gas heater, and fortunately with our anoraks on!
The menu consisted of a dozen tapas dishes with a Plato option, 10 toasted sandwiches, 8 salads, half a dozen meat, and half a dozen fish dishes, and even a kids menu, so plenty to choose from.
Our choice for starters, Chicken wings in honey, and half portion of Boquerones , and to follow Tempura Prawn salad with a spicy sauce, and Rosada (that they erroneously translate as Hake) with French fries.
Then the problems started!
First to arrive was the main of Tempura prawn salad, then several minute later, my chicken wings, then a FULL portion of Boquerones and finally my Rosada with some greenery but no fries. At each stage we made observations to Filipe, the head waiter, of the errors, and after a further 6 or 7 minutes my fries came to the table. At this time there were only 6 other diners there, so the kitchen were not exactly stretched. Let me say from the outset, the food was fine, but the chaotic service was, to say the least, unprofessional.
The only correction that was made, was to only charge for the half portion of Boquerones and for Filipe to say it will be better next time. If they get their (service) act together maybe there will be a next time.
The V.S
La Culinaria is in C/Federico Garcia Lorca, which is the short road opposite Flores, the well known Iron mongers in San Pedro. Reservations on 95127 5946 or email
info@laculiinaria.es they can seat a total of 42 in the restaurant, and a further 60 outside.
Closed on a Monday
Average 3 course meal with wine and tip 20€
Bishlin marks out of 5
ambience 2.5 food 3 menu 3 service 1 value 3.5