La Buena Vida - San Pedro de Alcantara
by Morris Bishop
(San Pedro de Alcantara)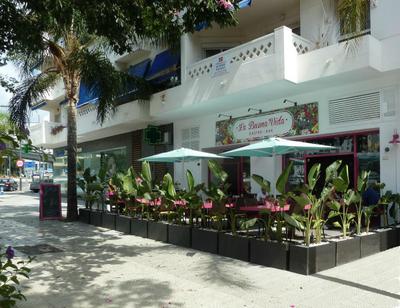 This is one of those eateries that opens for breakfast, elevenses, lunch, tea, dinner, and everything in-between, but calls itself a 'Gastro Bar', which might indicate that they have ambition to be better than your everyday 'cafe'.


Stylishly furnished, decorated and lit, it seats 40 inside and a further 28 on deck outside. The sensibly designed menu is divided into breakfast (that they will serve up to 5 o/c) sandwiches, salads, panini's, dishes to share, main course, (that they start serving after 5 o/c) desserts, tea and coffee and all manner of booze. The evening meals are prepared by Chilien chef Gaston, but Abdul is responsible for the lunch that we will eat. We chose a Steak Sandwich and a Chicken & Sweet Chilly Panini with Coleslaw, both dishes accompanied by French fry's, and because the rotating dessert cabinet was displaying its temptations so well, we succumbed to a New York Cheese Cake and a Carrot Cake (that's my excuse anyway). Anna and Felix our waiters were informative and attentive.
All of our meal exceeded our expectations in taste, presentation and value, and we are resolved to return and see if their evening meals live up to the same standards - SOON.
The VS.
La Buena Vida (the good life) is on the corner of the central roundabout in San Pedro and Avda. Del Mediterraneo No.5. street parking or underground in avda Marques del Duero (the other side of the roundabout) closed on a Monday. They open from 9:00 am till late. Average snaky meal under 20€ average dinner 30€
Bishlin marks out of 5,
Ambience:4.5
Food:4.5
Service: 5
Menu: 4.5
Value:4.5
O/A 4.5
Please mention to the restaurateur that the restaurant was recommended in the "MarbellaFamilyFun.com" Newsletter. To see even more reviews on the best restaurants in Marbella, check out The Bishlin Guide.
DATE: September 2016