La Brasserie - Nueva Andalucia
by Morris Bishop
(San Pedro de Alcantara)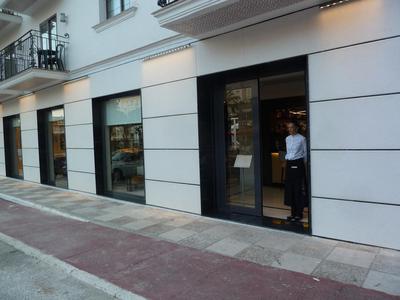 The anonymous restaurant
"First find your restaurant"


Opened just a few weeks ago, the new addition to the H10, Andalucia Plaza Hotel is La Brasserie restaurant that, as well as being accessible from the hotel, has an entrance from the road just to east of the hotel, however there is no sign on the imposing façade to tell the diner that they have found it, save the barely visible emblem on the lovely waitress Anna's pinafore. (see photo) What is within is an avant gard décor created by Pedro Peña that exudes modernity par excellence. Every aspect of this dining room pleases me, all the furnishings, displays, art, table settings, and even the bar are all of the finest, though in my opinion it may be OTT in the intensity of lighting (I prefer feature rather that flood lighting to dine in)
But enough of the place, what about the food? Many of the 'To Share' items on the manageable menu are named like 'Got your goat' goats cheese and caramelised onion croquettes with basil and green tomato marmalade, however we chose to start by sharing Grilled Scallops with Jalapino Hummus and salad, which, although delicious, had a more than generous proportion of the chilly which only served to mask the beautiful seafood taste. Mains consisted of Passionfruit sole menuier where the butter sauce had been infused with the fruit and some of the seeds sprinkled over the fish, and Bluefin Tuna Tataki, with salad. Then we share a dessert of Tarte Tatin with a liquidy Crema Catalana.
In textures, flavours, quality and quantity the whole meal was excellent, though ordinary in presentation, and with immaculate service by maitra D' Aturo and Anna completed a most memorable evening .
The VS.
La Brasserie can be found in Calle Las Malvas which is the road on the Marbella side of the hotel. Street parking. They open for dinner's only at 19:00h and can seat 60 inside with a further 12 alfresco covers in the link way to the hotel. Average 3 course meal with wine 50€ Though there are many snacks and bites at under 15€.
reservations on 952815716 or email labrasserie@h10hotels.com no web site that I can find
Bishlin marks out of 5,
Ambience:5
Food:4.5
Service: 5
Menu: 5
Value:4
O/A 4.5
Please mention to the restaurateur that the restaurant was recommended in the "MarbellaFamilyFun.com" Newsletter. To see even more reviews on the best restaurants in Marbella, check out The Bishlin Guide.
DATE: October 2016