Kokomo
by Morris Bishop
(San Pedro de Alcantara)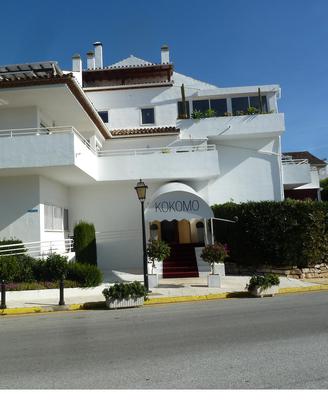 Kokomo
The very popular restaurant of Cocomo has moved, same fantastic value, same owners, same staff, same gorgeous food.


The name has changed because the building that they were in, was called Cocomo, so they could not migrate the name, so its Kokomo with 'K's.
The dining room must be nearly double the size, and can seat about 150, 50 of which, in all but the winter months, can be opened up for al fresco dining overlooking the gardens.
For those of you new to Kokomo, they have a lunch time menu with 15 main courses split into 3 price groups of, 5€, 6€, & 7€, with veggie extras and desserts at 1€. At these prices you might think that the portions will be small, or the quality of the food is less than good. Not only would you be wrong on both counts, but the flavours that chef-owner Simon packs into his offerings will have you, metaphorically licking the plates!, We chose Cod and chips, Steak and ale pie, with extras of Peas & chips, and followed this with desserts of Sticky Toffee Pudding and Cheesecake. The steak was tender with a fantastic sauce and even a separate gravy boat. The Cod was beautifully white and flaky and got madam's thumbs up.
For dinner, their 14.95€ 2 coarse table d'hôte menu has 10 interesting starters 13 mains, (some with a supplement) quite a few of which we have tried before at their old site, and we have always been delighted with their evening fair. Maître d' Sally, presides over front of house, and her staff are friendly, and seek to please. The bill, including drinks, was under 20€ for two!
The VS.
Kokomo can be found in Urbanisation Atalaya Alta, approach from the east on the A7, take the first exit after the Benahavis Turn off, and at the second junction turn right into Avenida Pernet, 26, Kokomo is 600m on the right. Street parking. Average 3 course dinner with wine 30€.
Reservations on a NEW landline phone number of 951560905 or 685218054.
Their day of rest is Monday, and they open for lunch and dinner Tuesday to Saturday, plus Sunday lunch, which has an option of 2 courses for 13.50€, or 3 for 16.50
Bishlin guide marks out of 5
Ambience :3.5
Menu: 4
Food: 4.5
Service: 4
Value: 5
O/A: 4
Please mention to the restaurateur you read their recommendation in the "MarbellaFamilyFun.com" Newsletter.

To see even more reviews on the best restaurants in Marbella, check out The Bishlin Guide.