The Jeans Factory Marbella Outlet
share this page with a friend
IMPORTANT NOTE: This venue has since closed. For other family-recommended shopping venues on the Costa del Sol, visit: Shopping in Marbella
The Jeans Factory Marbella Outlet has now opened its doors to the public!! We supply all your favorite labeled jeans and clothing at discount prices - Levi's, Diesel, Ed Hardy, Miss Sixty, B.T Jeans, Moschino, Prada, Tommy Hilfiger and more.
The Jeans Factory Marbella Outlet offers real outlet prices all throughout the year on hoodies, polos, t-shirts, sandals, socks, underwear, suits, track suits, push-up jeans, belts, shorts, and party dresses.

We are a family-run business with many years of experience in the fashion industry and own shops in Holland and Allicante in addition to our Marbella outlet. We buy all our clothing directly from overstocked shops as well as liquidations throughout Europe and thus we pass the savings on to you. All our items are new and we receive new stock on a weekly basis, so there is always a new bargain to be found.
Our outlet prices remain the same all throughout the year offering our clients REBAJAS (sales) every single day of the week. If this sounds too good to be true, then you'll have to come and see the Jeans Factory Marbella Outlet for yourself. We are now open 7 days a week! See y'all there!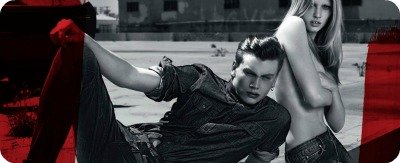 DID YOU KNOW THAT...
the Jeans Factory Marbella always offer outlet prices?
we offer items for men, women AND children?
we are always open on Sundays?
we can supply shops?
we are the cheapest in town?
we buy our items from overstocked factories?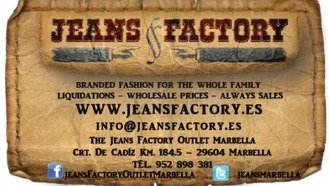 we always have rebajas/sales?
we also sell in stock lots? (ask for more information)
we also sell online? (www.jeansfactory.es)
we have multilingual staff?
we are based next to Casasola (N340 KM 184.5)
we are open 7 days a week?

Come see us and never overpay again for your designer clothing.
---
Telephone: +34 952 898 381
Address: Carretera De Cadiz (N340) KM 184.5. Next to Casasola
Opening hours: Monday - Friday 10.00 - 22.00, Saturday and Sunday 11 - 21.00
Website: www.jeansfactory.es
Facebook:Jeans Factory Outlet Marbella
---
Nuria's Family
Nuria: "Sunday shopping!"
Finally! Somewhere you can shop on a Sunday. It's my only day off and I can never get anything done.
---
de Jong Family
Silvia: "You guys are great!"
Hey!! I found some really nice fashion skinny jeans that I could not find anywhere else in Marbella and for sure not for that price! I also had to buy this really hot T-shirt with Rhine stones and lovely boots for almost nothing! Be back very soon.....
---
Burhart family
Mr & Mrs Burhart: "Good quality. Nice service"
Been shopping in the jeans factory outlet. They have very good quality and very nice service from the two girls in there. We will come back soon !! Many thanks
---
Ricky's family
Ricky: "Good value"
I saw it on the autobus in town. It's a realy nice shop and great value for money.
---
Jesus Martinez family (Madrid)
Jesus: "Excellent shop"
Well it sounded to good to be true but i can tell you now after me being there that there are absolutly cheap prices for labeled items. I bought two pair a jeans and a polo for just 100 euro

I will come back when we are coming back in Marbella to play golf. See you guys soon and Roy well done matey excellent shop.
---
Ravenstein family
Ramon: "Goede service"
Heeej gozer. Echt een mooie winkel man ziet er gelikt uit enne bedankt voor de goede service. Groetjes, Ramon Ravenstein
Translation: "Hey guy. Really a beautiful shop, looks slick, await you. Thanks for the good service. Greetings, Ramon Ravenstein
---
Pass family
Enrique: "Me gusta mucho"
Muy bien la tienda me gusta mucho. Un Saludo. Very nice shop. I like it a lot. Regards.



---