Incontro San Pedro de Alcantara
by Morris Bishop
(San Pedro de Alcantara)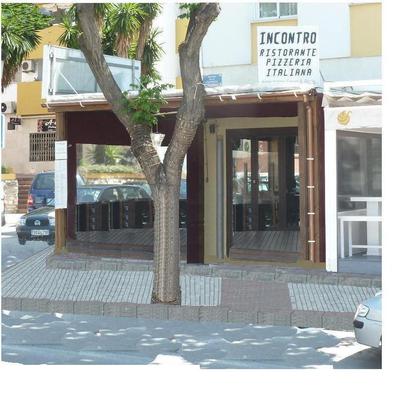 Incontro
Some people from San Pedro that we got into conversation with whilst dining at the English Garden, mentioned a Restaurant/pizzeria that was their favourite Italian in the area. So on a rain swept night, after solving the problem of loosing the car, easier said than done in san Pedro these days, we eventually walked into the restaurant and were met by Luigi, the owner and chef of this eatery. He then guides us through the menu which is divided into pizza and a very comprehensive selection of pasta, fish and meat dishes from which we chose an Insalata Caprrese, which was a plate of Palma ham, Buffalo Mozzarella cheese and tomato with some Pizza bread to share, and followed this with a Spinach and Ricotta Ravioli in a spicy tomato sauce, and for me a Scaloppina Marsala with roasted Aubergines and Tomatos. All were very simple dishes, and yet, without any pretence or 'chefiness' he succeeded in making the best Marsala sauce along with the most tender and tastiest piece of veal EVER, and madam tells me she was equally as enthusiastic with her Ravioli, OK she thought they could have been a little fatter! We finished with a tiramisu that was light tasty, enormous and by far the best we could remember.


Looking at some of the work that Nino the dedicated Pizza chef was producing, and watching him build each one to order, and then looking at the smiles on the faces of all his diners, they too were happy peeps! Talking to Luigi later he remarked, "this is authentic Italian cooking, and I only use the very finest of ingredients" and from what I tasted, I believe him on both counts. A very friendly and helpful hands-on Owner made this a special evening for both of us, and yes, we will return.
The VS.
Incontro is in Avd. De la Constitucion, no. 1 that, although it starts from the boulevard, it can not be accessed directly from it, as the bottom 100 Mt. is one way
The dining room proper seats 20 and a further 24 on the covered forecourt. Our waiter was Andrea and Luigi's wife Cloudia is the matra'd naturally there is a take-away service.
An average 3 course meal with wine 30€ They open for dinners only and are closed on Tuesdays.
Reservations on 951196024 or email gigiderosa7@msn.com
Bishlin marks out of 5,
Ambience3:5
Food:5
Service:5
Menu: 4.5
Value:4.5
O/A 4.5
Please mention to the restaurateur that the restaurant was recommended in the "MarbellaFamilyFun.com" Newsletter. To see even more reviews on the best restaurants in Marbella, check out The Bishlin Guide.
DATE: May 2016