Inch - San Pedro de Alcantara
by Morris Bishop
(San Pedro de Alcantara)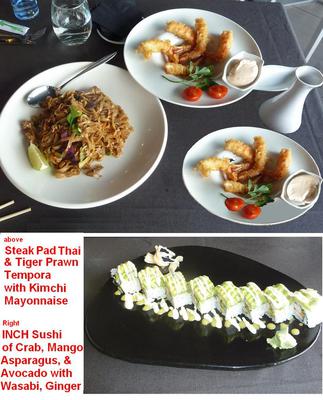 Mains
Yet another restaurant has opened in 'Gourmet' San Pedro. This time by Serial restaurateur Oscar Flanker who is specialising in the Asian cuisines from China, Japan, and Thailand. With a dedicated Sushi bar, where diners can watch the Japanese dishes being prepared, and a pleasant bar area with high stools, the 30 cover dining room's décor is stylish, well lit, and with comfortable seating. The 20 seater terrace in front of a folding glass curtain for al fresco dinning is adjacent to a busy road.

The well organised Menu is split into 8 sections that besides Starters, Soups, and Salad, include Noodles, Rice dishes, Curries, Stir fry's, a children's menu. and Sushi/Sashimi. We Chose a Steak Pad Thai, Tempura Tiger Prawns with Wasabi & Ginger, and Uramaki INCH Sushi. This latter had Crab, Mango, Asparagus, and Avocado in, though I doubt the crab was real! We end the meal with a delicious Mango Rice pudding. The quality of the ingredients, the flavours, and the presentation created by chef Romel were all top notch!
Next time we go to Inch, for go we will, I am bringing my own chop sticks, because my one and only grumble, is that of the tiny throw away ones that they set at the table! Plus one suggestion, that they consider having a mixed sushi dish on the menu.

V.S.
Inch is where Nomo used to be on the South East corner of the San Pedro de Alcantara, 'wavy bridge' central round about in Avd. Juan Vargas. They open for lunch and dinner and their day of rest is Monday. Street parking or under Avda. Marques del Duero (Just north of the round about). Average meal with wine, less than €30 our helpful waiters were Maria & Alex. Reservations on 951504012 or oscarflanker@hotmail.com

Bishlin marks out of 5,
Ambience: 4.5
Food: 5
Service: 5
Menu: 4.5
Value: 5
O/A: 5

Please mention to the restaurateur that the restaurant was recommended in the "MarbellaFamilyFun.com" Newsletter. To see even more reviews on the best restaurants in Marbella, check out The Bishlin Guide.