House swap in Switzerland for Marbella
by Patricia
(Villars-sur-Ollon, Switzerland)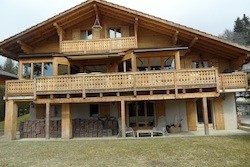 chalet swap for Marbella
I am looking to house swap our chalet for a nice home in Marbella this summer. This swap can be for same dates or our chalet is also available during ski season.


Our chalet is located in the mountain resort of Villars-sur-Ollon, a, well known ski and summer resort 1h30 car or train trip from Geneva, Airport, at the tip of lac Leman ( Geneva). It is regularly rated as, the top family resorts in Switzerland., With 5 boarding schools offering summer camps to international kids of, all ages in French and or in English.
The region offers a wide range of activites such as promenading, paragliding,hiking, grass skying, skying on Glacier, cross/mountain, biking, horse riding, tennis, swimming,,as well 18 hole golf course nested at 1500m with a panoramic view of the Alps. Down in the valley, a 20 minute ride from Villars, lies Montreux the Swiss Riviera capital and it's world famous Jazz, Festival! The lake side offers it's own range of water activities, including sailing, lake front beach, water skying, as well as an, aquatic park., For more information, visit www.villars.ch
Our chalet , a 5 minute walk to the center, offers a stunning view of, the Alps and is decorated in alpine style while fully renovated. It, has 4 double bedrooms and three baths over three floors. The trop, floor offers a large master bedroom with bath and balcony. The ground, floor offers an open all glassed in living, and dining room , a kitchen, guest shower, office and TV/guest room. A, large balcony with fully equipped dining, lounging and barbecue areas, and full awnings allow for day and evening outdoor entertaining and, resting., Three other bedrooms, a bath, with another living/TV room (two guest, sofas) , kitchenette and laundry room with full access to terrace and, garden complete this beautiful chalet that can accommodate 10 to 12, people comfortably.
I am looking for house or flat in Marbella in good, location, possibly with pool and/or near beaches that can accomodate up to 6 people for period of 24/25 July to 7/8 August 2011.
Contact:
Patricia Shmorhun-Hawrylyshyn
PORCELAIN GROUP- Kyiv, Ukraine
+380 50 388 53 87 (Cell-UKR)
+38044 593 7788 (work-UKR))
in Switzerland
+4179 667 5160 (Cell-CH)
Skype: tuscia.shmorhun