Hotel Claude Marbella
by Mack
(San Pedro de Alcantara)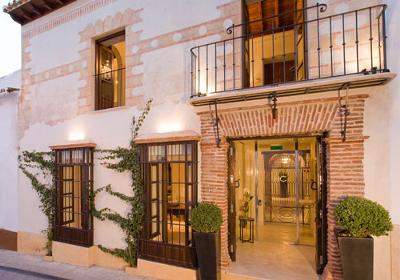 Hotel Claude Marbella
A hidden jewel in Marbellas Casco Antguo (Old Town), the Hotel Claude Marbella is a delight to stay in from start to finish.


Our arrival was met with a welcome like we were long lost friends and whilst our paperwork was being dealt with we relaxed with complimentary drinks,in the sophisticated decor of the small but elegant lounge.
Our stay was in the
bedroom Contemporanea
. One of the seven individually designed and decorated rooms.
The room was
furnished and cleaned to a very high standard
and the dish of fresh cherries and a hand-written welcome note made us feel even more wanted.
The
Hotel Claude Marbella
has a beautiful roof terrace which can be used for just having a drink from the Honesty Bar (help yourself and write a note in their book of what you have taken) and enjoying the Mediterranean night, or for enjoying a fabulous breakfast, served beautifully and offering a selection of something for everyone.
Whilst the Hotel Claude Marbella isn't cheap, its location, ambience and
excellent one on one service
, makes it a must for people looking for quality over quantity.
There is a wonderful history to the building, and the family run venue offers something a little unique for Marbella.
Although Hotel Claude is very much a boutique hotel, they are welcoming of families with children of all ages and will do their best to make your stay as memorable as possible.
We stayed for just an overnight break, having shipped our children off for the night. As residents of San Pedro we weren't exactly far from home, but felt like we had had a lovely city break.
Can't wait to go back and try one of the other stunning rooms.