Hotel Amanhavis | Benahavis
by Morris Bishop
(San Pedro de Alcantara)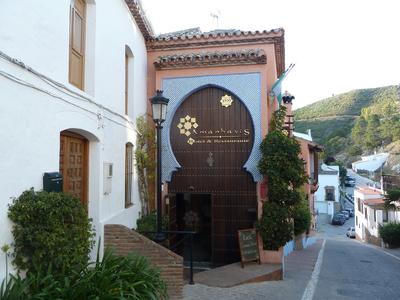 The approach to Amanhavis
Rarely have I known my wife's sister and her husband expound in such glowing terms about a meal they had yesterday to celebrated their wedding anniversary, using such adjectives as 'exquisite' and 'glorious' with phrases like' the best starter I have eaten - ever', this certainly got my attention.


Thus began a sequence that ultimately saw us driving up the twisty road to Benahavis, to one of the 27 restaurants in the village the very next day.
We are greeted by the owner, Burkhard Weber, who settled us at our table, and we are given our personalised, menus "welcome the Bishop family" to the hotel and are left to contemplate what appears to be a very nice, but unspectacular set of starters, mains and desserts.
Having been primed with what to expect we, order starters of Andalusian Turbot soup with Saffron, Marjoram Croutons and a Puff pastry Flute, and for me a Tagliatelle Pasta, with Honey sautéed Langoustines, mild Sesamo, green Onion sauce, and for mains Pan fried Goose Liver on Brioche, mushrooms and a Balsamic Sauce accompanied by a glass of Malaga sweet wine, and the Surf & Turf of Beef Fillet and a giant Tiger Prawn in a cream sauce for me. Both my wife and I find it difficult to adequately put into words the sheer beauty of every element of the meal, in taste, texture and depth of flavours that talented chef Nick had created, but suffice it to say that this was in my top 5 meals ever, one of the top 3 in Spain, and I do not give such plaudits lightly.
In chatting to Burkhard later when he was recounting the recent history of the hotel which he built some 17 years ago, we discover that it was created from the house that was owned by the daughter of some friends of ours, sadly no longer with us. The dining room has 26 covers with further dozen on the very pleasant terrace, though he assures me that they can cope with many more in both areas. Service was attentive, informative, precise, and hand-on, ably assisted by Ramaan.
So, there was no April fools day prank attached to this recommendation and we will certainly be returning.
The VS:
Amanhavis can be found at the end of main street turn right, and then left, the hotel is immediately on your left in Callle. Del Pilar. Street parking 100 meters further down the steep hill (there are steps to help you climb back up the hill). Open for dinners only from Monday to Saturday. Average 3 course meal with wine 50€. Reservations on 952856026
Bishlin Guide marks out of 5
Ambience:4.5
Food:5++
Menu:4.5
Service:5
Value:5
O/A: 4.8
Please mention to the restaurateur that the restaurant was recommended in the "MarbellaFamilyFun.com" Newsletter. To see even more reviews on the best restaurants in Marbella, check out The Bishlin Guide.