Hogan Stand | San Pedro de Alcantara
by Morris Bishop
(San Pedro de Alcantara)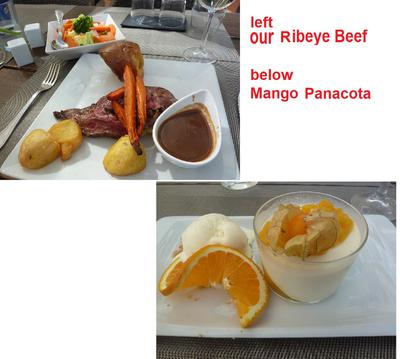 Mains & Dessert
This was one that we had been threatening to try for some time, but for one reason or another hadn't got around to, indeed general manager Ross agreed to participate in the CoolDeal Sunday lunch challenge held in 2015, and was one of the ten chosen to go forward into the ten week public finals. The home of Irish Rugby Union, Croke park's Hogan stand was named after Michael Hogan, a dissident Gaelic footballer who the police shot dead at match there in 1920, and the very day we were dining here a Rugby international between Ireland and France was being played and shown live at the restaurant.


A nicely divided room with a bar and casual eating area dominated by the TV screen, a more formal dining room and bar giving a total between the two of about 80 covers , plus a pleasant terrace for a further 50. The menu sought to serve everything from Bar snacks to a full blown A La carte meal, and of course, being Sunday, a set 3 course Roast that included Irish Ribeye of Beef with all the trimmings which we both opted for, This was preceded by Chicken Liver Pate with Caramelised red onion, Herb encrusted crisp bread and a sweet chilli sauce, and for me Garlic Mushrooms with salad and Alioly. Both of these were delicious and well presented, and although the main course had al-dente vegetables, a true Yorkshire pud and both mash and roast potatoes the Beef, though Tasty and plentiful was in parts quite stringy, the gravy was good though! We rounded off the meal with an excellent Mango Panacota and an Apple crumble with custard and ice cream. Maitra D Maggie and our waiter Sebastian served us well.
The V.S.
Hogan Stand is in No. 28, Av. Luis Braille which is the principle westward surface road on the Boulevard above the San Pedro Tunnel near the central round about. Street parking or in the underground car park in Av. Marques del Duero (100m) . Open for Lunch and Dinner weekends and from 16:00h till late weekdays. Average 3 course meal with wine €28. They have a 'Kids' Menu and daily specials. Bookings on 952786231
Bishlin Guide marks out of 5
Ambience:4
Food:4.5
Menu:5
Service:4.5
Value:5
O/A:4.5
Please mention to the restaurateur that the restaurant was recommended in the "MarbellaFamilyFun.com" Newsletter. To see even more reviews on the best restaurants in Marbella, check out The Bishlin Guide.