Gastronomic Festival Marbella de tapas
by Marbella Family
(Marbella)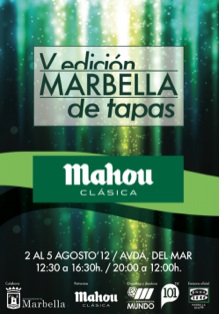 V Marbella de tapas
The Marbella food festival called 'Marbella Tapas' is celebrating its fourth edition on August 2 to 5, 2012 on Avenida del Mar in Marbella center.


There are 10 restaurants competing in a tapas contest, where they need to prepare a maximum of 3 tapas in two categories:
Popular Tapa
- based on products and recipes from popular and or traditional Mediterranean foods.
Innovative Tapa
- where chefs can go "freestyle" in their choice of ingredients as well as their cooking techniques.
The Marbella tapas festival shows off the rich and wide variety found in the culinary tradition of Marbella tapas. Visitors have the opportunity to taste the high quality native delicacy at fabulous prices. The festival runs from 12.30 to 16.30 and from 20.00 to 00.00.
Beer and refreshments are 1 euro, tapas are 2 euro and a special offer of 1 drink and 1 tapa is 2.50 euro.