FREE BOOTCAMP: fitness taster day in Marbella
by Helen Buteux
(Estepona)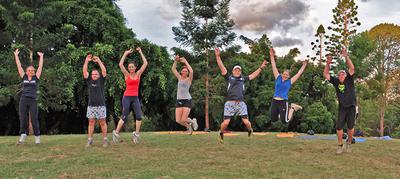 Marbella Aurora Bootcamp
Free fitness!


Aurora Bootcamp are looking for men and women (any age, size, fitness, weight, shape.. just have to be over 18!) to come to a FREE bootcamp taster day at a villa near Marbella on Sunday 22nd Feb.
They are launching their residential bootcamps shortly (fitness and weight loss) but this is a pre-launch taster and opportunity for them to take some photos.
There will be 6 sessions of 30 minutes (fun classes from boxercise to kettlebells, dynaband and circuits and all sorts of games!) and hopefully yoga at the end. Stay for a few sessions, a few hours or all day. It's at a villa in Las Chapas.
When they launch they are also, uniquely, welcoming local people to train on their bootcamps but as non-residents so you can go home at night. They have lower prices for these and you can do 1-6 days.
For more information http://www.aurorabootcamp.com/boot-camp-marbella-free-taster-day-22nd-february/
To reserve places at the free taster day drop an email to helen@d3marketing.co.uk as we'll need to ensure we have space and lunch for everyone.
DATE: February 2015