Electricity in Marbella
by Kris
(Fuengirola)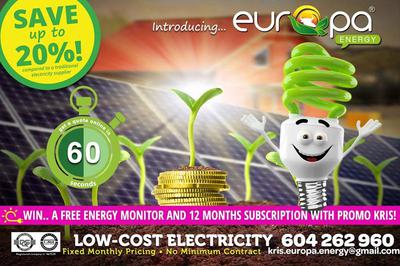 Go green and save money on the Costa del Sol
There are many benefits to going green with Europa Energy. Ideal for home, business, property letting agents etc.


Check your home energy, anytime, from anywhere!
Become energy smart with an energy monitor from Europa Energy. You can track your energy usage and start saving on your bills!
• 100% Solar power electricity
• Honest and transparent
• Monitor consumption 24/7
• Save up to 20%
• English customer support
• Appliance service cover
Also, I am looking for a friendly self-motivated person in Marbella to help families save money on their electricity and home wifi bills.
Email: kris.europa.energy@gmail.com
Telephone: 34 604262960
Facebook: https://www.facebook.com/Europa-Energy-134228337081078/