El Legardo | Cancelada
by Morris Bishop
(San Pedro de Alcantara)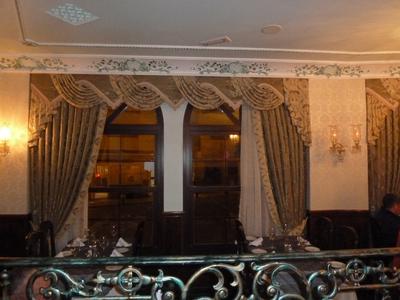 the elaborate decor
"Try the three course set menu at El Legardo". Was the recommendation from one of my wife's sculpture class mates who's judgement I listen to.


So within a few days we find ourselves trying to lose the motorcar in Cancelada which, even in the off season, seemed to be a near impossibility, but eventually we were lucky enough to find a parking place about 300 meters away, and walk back in the general direction we thought the restaurant was.
At last we find it and were greeted by the amiable Juan in to a room that I can only be described as Edwardian Opulence, where everything is intentionally OTT, from the elaborate drapes to the highly decorated cornice, the spiral marble columns, many pictures and sculptures dotted around, even the lighting was in keeping with theme. They do have a dozen or so places on the pavement outside for use in more clement times, but within the 56 cover dining room is an elevated corner seating 16 and it there that we decide to dine.
Beside the set menu they also have a small Indian menu and an extensive a'la carte, and as we didn't fancy anything from the set menu, we chose from that. For starters, Goats Cheese with molasses and Calamari fried in Panko crumbs, with a hot chilly dipping sauce followed by mains of Duck Breast in a rich Orange sauce, and for me, a Sole Meniere both accompanied by al dente vegetables and French fries. A pineapple and ice-cream dessert completed our meal.
We were pleasantly surprised by the quality, quantity, and flavours of all the dishes, however there was little sophistication employed in the presentation, and the cold plates did nothing to enhance our experience. My wife commented that it would have been better with less on the plate and the lovely Orange sauce to be served separately. Service from owner Juan and waiter Roberto could not have been more helpful , but when Juan was asked about the cold plates his explanation was that it the kitchen extract system was to blame! Although they have lavished a considerable amount of time and expense in the décor of the dining room, we found it somewhat overpowering, to the point that we thought we were in a 1920's time-warp. I am sure there are those amongst us in who's eyes this room is beautiful, but sadly not us.
The VS.
Ee Legardo (the legend) can be found in Plaza Quevedo, Cancelada. Street parking. Average 3 course a'la carte with wine 26€. Three 3 course Set menu 14.80€. Open for dinners only. Their day of rest is Sunday.
Reservations on 952887723 or 662470974. Their website is www.restauranteellegado.com
Bishlin Guide marks out of 5
Ambience:3.5
Food:4
Menu:4
Service:4.5
Value:5
O/A:4
Please mention to the restaurateur that the restaurant was recommended in the "MarbellaFamilyFun.com" Newsletter. To see even more reviews on the best restaurants in Marbella, check out The Bishlin Guide.