Eagles Tribute Band - 7 November 2015
by Martyn Wood
(Torremolinos)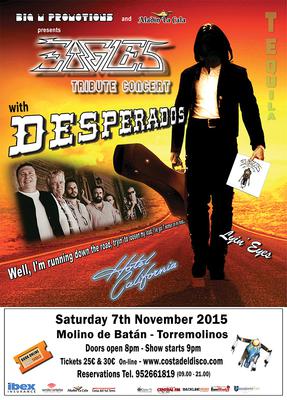 Eagles Tribute Band - 7 November 2015
The Highly acclaimed EAGLES tribute band DESPERADOS return to the Costa del Sol playing all the favourite hits of the legendary Wst Coast band the EAGLES - Hotel California, Lyin' Eyes, Best of my love, Take it easy and of course Desperado!


The venue is the superb Monilo de Batan near Torremolinos, a 500 seat concert hall with 2 bars and hot snacks served all evening.
"DESPERADOS" were formed from two of the Costa del Sol's most respected bands; Shackattack and Monkey Tennis. This 6 piece group play the very best songs of the legendary "Eagles" in a 2 hour concert supplemented by classic video clips.
A concert not to be missed for "EAGLES" fans, a very special night in a very special location, Molina de Batán.
Doors open at 8pm and the concert starts at 9pm.
This concert is not recommended for children under 8 years old.
Limited places for wheelchairs are available, inform the promoter if needed.
PLEASE NOTE: For online ticket purchases, entry to the event is by e-ticket so please print it and bring the e-ticket (with the qr code) with you when you come along to the venue. It is your responsibility to keep the e-ticket in a safe place as you would money or regular tickets. Entry is NOT possible without the e-ticket. If the e-ticket is copied, it will be invalidated by the venue's security system preventing entry to the event.
Groups having one E-Ticket must enter together.
NO DRINKS OR FOOD CAN BE BROUGHT INTO THE VENUE.
Online ticket sales at www.ticketsource.eu/bigmpromotions or call 952661819 or email disco (at) costadeldisco . com