Don't miss the rentin-mijas.com New Year Booking Event for 2013!
by Gerry Hutchinson
(York, UK)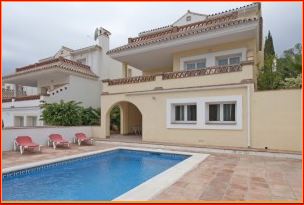 Just one of our lovely villas
FOR UPDATED CONTENT ON THIS TOPIC,CLICK HERE.
Exhausted? Worn out with the stress? Come and find a holiday villa or apartment in lovely Mijas Pueblo in the mountains or Calahonda on the coast. Enjoy the sea breezes or the mountain air, we are sure to have something for you whether you just want a romantic getaway for two or an unforgettably relaxing and private vacation for the whole family!
Have a look at just a small sample of our delightful and luxurious properties. For the full range of our accommodation, go to our website - we'll be waiting to assist you find the holiday of your dreams! Or simply email us and we'll find something on your behalf! For an even faster response, ring the number on our website we can't promise to be there all the time but we will try and get back to you as soon as possible.
Click here to return to: EVENTS - Christmas.