Dolphin Safari in Gibraltar
by The Original Dolphin Safari
(Gibraltar)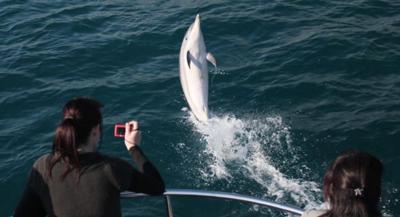 Gibraltar dolphin
See and hear dolphins, and observe whales in their natural habitat. In Gibraltar there are many resident dolphins and through the years they have come to recognise our unique boat, the Goldfin, and come to greet it as if it were an old friend!

Established in 1969, the Original Dolphin Safari in Gibraltar is the longest running and most popular marine safari in Europe. Our brand new boat called GOLDFIN, 430 horse power, is especially designed to watch dolphins and whales in the bay and Straits of Gibraltar. Strong, fast, modern, safe, with all the accommodation necessary inside and outside for one of the most enjoyable and unforgettable experience of your life.

About Us

Enjoy one and a half unforgettable hours of fun and thrills as we follow Wild Dolphins and sometimes, if we're really lucky, migratory whales on our trip through the Bay of Gibraltar and into the Straits of Gibraltar where the Atlantic Ocean and the Mediterranean Sea meet.

To assist us, our satellite navigation system can pinpoint any sitings and formulate patterns of movement, so bring your cameras.
The dolphins come so close to our boat that you may even hear them! There will be a light-hearted commentary (or more in-depth for those who enjoy me blabbing on!) on what we see including information about other wildlife such as flying fish, turtles and many species of birds.

Remember you will also enjoy a sightseeing tour of the southernmost and northernmost points of Europe and Africa.




Cancellation policy
There is a 24 hour cancellation policy for any reservations with a O% cancellation fee. The Original Dolphin Safari in Gibraltar is not responsible for getting you to your scheduled tour on time. You will be charged the full amount of people that you have made a reservation for if you have missed the scheduled tour. Tour times and prices are subject to change without notice. Minimums apply to tours. Cancellation of a cruise is at the captains discretion only. Our tours run - rain or shine.
The Original Dolphin Safari in Gibraltar is the best way of filming and photographing
dolphins, whales, orcas, migratory sea birds
and other specific fish and marine life. Our boat, the Goldfin, was designed and built specifically for this type of work and pleasure. Its stable platform, excellent maneuverability, and close proximity to the subject being observed (almost within "touching" distance) makes it the perfect choice for such excursions.
We also hire our boat out for special trips, including film and photography, by the day, week, or month, depending on the need.
We depart from Marina Bay, 7 days a week all year round except for the winter : December, January, February and March but with the possibility to hire the boat.
Duration of the Trip
On average one and a half hour trip to see dolphins or whales in the Bay or Straits of Gibraltar.
Price for a Trip
Adults: £25.00 (English Sterling) or 35 Euros. Children under 12 years: £15.00 (English Sterling) or 25 Euros.
Boat Hire
Maximum 12 passengers - One and a half hour trip all year except In August : One hour trip (the dolphins are easy to find) £ 250 (English Sterling) or 350€.
Hire the Boat
Maximum 25 passengers - One and a half hour trip all year except in August : One hour trip (the dolphins are easy to find) £350 English Sterling) or 400€
Please note: All Card transactions carry a 2.75% charge.
Contact
The Original Dolphin Safari
Marina Bay, 6 The Square
Gibraltar
Email: dolphin@gibraltar.gi
Tel: 00350 20071914
Mob: 0034 607 290 400