Dinopetrea Malaga Dinosaur Exhibition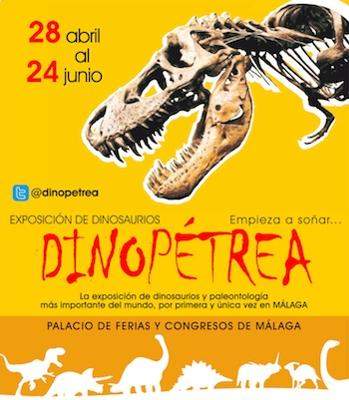 Dinopetrea Malaga Dinosaur Exhibition
The kids will love the Dinopetrea Malaga Dinosaur Exhbition running from April 28 to June 24 at the Malaga Trade and Exhibitions Hall (Palacio de Ferias y Congresos de Málaga).


The exhibition is intended to be informative, educational and fun for both children of all ages and adults. There will be fossils and skeletons (some as old as 125 million years old!) on display as well as parallel activities for learning how these predators roamed the earth.
ActivitiesExcavation room
- Little ones can play paleontologist and excavate real fossils.
Geode zone
- Using a special machine, children can open geodes and observe their beautiful crystals.
Extinction hall
- Learn about the meteorite that wiped out the dinasours and touch the stars.
Opening hours:
Monday to Friday 10:00am to 2:00pm; 5:00pm - 8:00pm (closes for lunch). Saturdays, Sundays and holidays 11:00am to 8:00pm.
Price:
7 euro. Discounts for groups and schools. Call 629 293 599/677 363 072/679 427 271 or email dinopetrea@gmail.com
Address:
Palacio de Ferias y Congresos de Málaga - Av de José Ortega y Gasset, 201, 29006 Málaga
Tel:
+34 952 04 55 00
Email:
dinopetrea@gmail.com
For more information go to the
Dinopetrea Exposition website
.