Dinner at the 'NEW' Nueva Campana October 2014
by Morris Bishop
(San Pedro de Alcantara)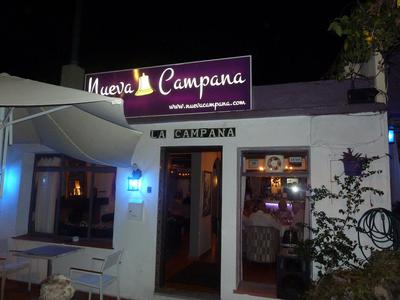 The newly refurbished Nueva Campana
Gastropreneure Garry Waite emailed all his regular customers, inviting them for drinks, and to see what He, and his staff have been up to refurbishing Nueva Campana. Not content with a new colour scheme, new furnishings, new lighting, and new bar area, he, and chef Maurice Curtin, devised a new, diverse, menu that not only reflects the trend for snacky lunches, but maintains a broad a'la carte listing, including some of the perennials and signature dishes that they are renown for.


The lunchtime offering consist of about a dozen starters, half a dozen open sandwiches, and 3 pasta dishes. All of them look interesting and very tempting, but alas the only ones we tried were the BBQ chicken with Guacamole and Tempura King Prawn.
The dinners that our party of 3 had, was, Grilled Salmon with Parmesan Creamed Leeks - Sautéed Calves Liver with Pancetta and 'bubble & squeak' - Sea Bass fillets & Tempura King Prawn with mash potato and a sort of sliced, Spicy, Ratatouille. The two girls shared a dessert of Sticky Toffee Pudding. and I had a Lemon Sorbet .
The meal was delicious, cooked to perfection, and all for about 20€ a head.
Nueva Campana are in Avnda. De Miguel de Cervantes which is in Nueva Andalucia.
Reservations on 95281 4041 or 629273765 from their website www.nuevacampana.com you can email them. Their day of rest is Tuesdays. Average price of a three course
meal with wine and tip 40€ Sunday lunch fixed price menu 18€
Bishlin marks out of 5:
ambience 4.5,
food 4.5
menu 4.5
service 4.5
value 4.5