Dinner at Restaurant El Banco, Aloha Pueblo, Nueva Andalucia, November 2017.
by Morris Bishop
(San Pedro de Alcantara)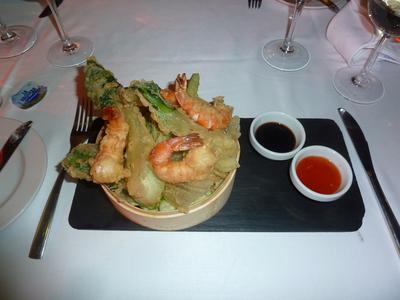 tempura
Some close Friends of ours suggest we dine at El Banco in Aloha Pueblo, and after looking at the almost universal 'thumbs up' from the TripAdviser reviewers, on a crisp November evening we sit down with anticipation level set very high. I have dined in some strange eating houses, but never in a Bank, or more correctly what was a Banco BBVA branch in Aloha Pueblo. It still has some of the trappings of its former use, but in effect it is a comfortable, nicely appointed fine dining room that can seat up to 80 with a further 50 or so in a covered, but heated walkway


The compact menu has many interesting dishes and should cover most of what one would expect at this Gastronomic level. Our party of 4 selected starters of Mussels in a tomato sauce with white wine - An Inca Prawn and Vegetable Salad - Prawn and Vegetable Tempura - Tuna Tartare Acevichado, and for mains Thai grilled King Prawns with Shiitake Mushrooms Pak Choy served with Basmati Rice, and a Prawns Tagliatelle in a Tomato Sauce for the girls, and for the carnivorous boys, the Ribeye Steak with a pepper sauce, one with yucca chips and the other with French fries. The Starters arrived some 40 minutes after placing our order and all 4 were delicious in taste adequate in size but with my Tempura dish the batter did not have any 'bulk' to it and was separating from the Prawns and Vegetables, it was a case of re-assemble as you go!!. As for the mains, these arrived after about one hour later. The Prawns were over cooked in the Prawn and Mushroom dish, , and the mushroom and Pak Choy had a strange unpleasant tasting sauce that was not eaten – the Tagliatelle was over salted – and although our Ribeye steaks were delicious my fries were so hard as to be virtually uncuttable and I resorted to stealing some of the Yucca chips which were fine.
What we experienced bore no resemblance to the quality that the TA reviews led us to expect. Eventually we learn that indeed there was an abnormal situation in the kitchen caused by a new team of chefs and helpers working under head chef Giacomo. I must praise the staff of Julia, Sommelier Wannes and head waiter/manager Daniel (who made the decision not to charge for our wine) for copeing with the situation as sympathetically as they did. Later David, one of the chefs that I knew from another restaurant, and who had been helping in the kitchen came out and apologised. Unfortunately, neither of the owners or the General manager were at the restaurant that evening. I would hope that this is a one-off Hiccup and perhaps, with some reassurance from the management, we may make a return visit
The VS.
El Banco can be found in the Aloha Pueblo on the entry corner. The easiest way to get to El Banco – From Purto Banus turn North – straight on at two round-about – past the Bull ring – bear Right at the next round-about – then turn Right at the next – straight on at the next two round-about – in approx. 600 m. fork Left at sign post "Aloha Pueblo" and the restaurant is on the left. They are open every week day and Saturday for Breakfast, Lunch, and dinner and for Sunday Lunch only. Average price of a 3 course meal with wine 40€ There is a kids menu and a special Sunday lunch menu. Street Parking. There is a one way system in operation so to exit drive west and follow the road to the exit the Pueblo where turn Left to return to Puerto Banus. Their web site is 'under construction'
Reservation on 952907570 or info@restauranteelbanco.com
Bishlin Guide marks out of 5
Ambience: 4.5
Food: 3.5
Menu:4.5
Service:5
Value:4.5
O/A:4
This appraisal is based on this evening meal
Please mention to the restaurateur that the restaurant was recommended in the "MarbellaFamilyFun.com" Newsletter. To see even more reviews on the best restaurants in Marbella, check out The Bishlin Guide.