Dinner at Koh Thai, Guadalmina, San Pedro de Alcantara, March 2018
by Morris Bishop
(San Pedro de Alcantara)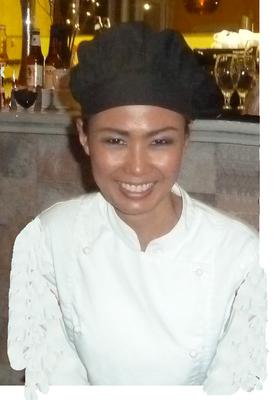 Chef-Owner Anne
"You must try the Thai restaurant on Guadalmina." It wasn't until we had heard this at least a half dozen times that we actually got round to making a visit. Probably the smallest Thai restaurant ever with just 18 covers (plus a further 25 on the enclosed forefront) with a tiny bar area for one more! Nothing spectacular about the décor or lighting, pleasant enough place settings, comfortable seating, and a menu with a reasonable selection of Thai dishes.


We were a quartet and decided to share a double portion of their "Koh Thai Big Island" Mixed Starters, this had 8 variants along with 8 Sauces, including: Marinated Pork, Chicken Satay with pickled Cucumber, Thai Fish Cake, Thai Garlic Dumplings, Vegetable Spring roll, Chicken Spring Roll, and a Crab and Cream Cheese Wonton. Each had its own Sauce, but other than the obvious ones like the Satay and the Crab dish, it was difficult to match them to their respective plates!, However as we proceeded to demolish this mini feast the reality of what their USP (unique selling point) is revealed – In Flavour , Texture, and cooking each of the elements were faultless. Similarly we share the main courses and order: Beef Massaman, Prawn Gaeng Kiew , Chicken Gaeng Lueng, Duck Krapaw along with lots of Kao Soy (Fragrant Steamed Thai Rice). In the menu all the Curry's dishes have a 'heat 'indicator of Mild medium or hot, so with the addition of a bowl of Coconut milk, for those that don't like the extremes of curry can moderate the 'heat' down to an acceptable level by its addition. A Pino Griego wine was a pleasant accompaniment.
Without exception all the mains were to the same high standard as the starters and this says a lot about the skills of Anee the chef/owner of Koh Thai. This was an exceptional meal enhanced by the service of Sue Lee and Juh-Jhu that was efficiency with serenity. Oh if only we had some bread to mop up our plates
The V.S.
Koh Thai is in the back road on the Guadlmina Commercial centre 4:L:2 west of San Pedro. To find it, approaching from Marbella, go through the S.P. Tunnel and immediately exit from the A7- at the first round about take the first exit, and at the second roundabout take the second exit, 50m. fork right, 200m. crossroads straight over, and park. The restaurant is on the left. From Estepona direction DO NOT go through the tunnel but leave the A7 before, then at the first roundabout take the fourth exit, this leads you to the first roundabout mentioned in the other instructions. They open for Lunch and dinner every day except Sunday. Average 3 course meal with wine 30€ There is a take away service (see menu on the website)
Reservations (essential for dinner) on 952191945 or on their website www.kohthaimarbella.com
Bishlin Guide marks out of 5
Ambience:3.5
Food:5
Menu:4.5
Service:5
Value: O/A:4.5
Please mention to the restaurateur that the restaurant was recommended in the "MarbellaFamilyFun.com" Newsletter. To see even more reviews on the best restaurants in Marbella, check out The