Dinner at Cabana Restaurant & Cocktail bar, El Pilar, May 2017
by Morris Bishop
(San Pedro de Alcantara)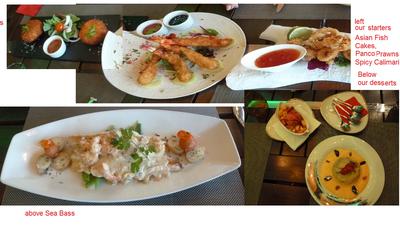 our meal at Cabana
Asian food of any variety is one of our favourite cuisines, but when combined with western dishes it can sometimes end up with no true identity. No such problem here! This is Fusion dining at its best.


Lets start with the dining area. It is a room of beauty that has a living wall of many varieties of leafy plants, a bar with a pelmet of golden Nacre (mother of pearl) and dotted about the room, fire boxes with a water feature beneath, not to mention the kitchen that is open to view. Many of the remaining walls are bifolding glass. The comfortable furnishing, lighting, and table settings are all to a very high standard, all together, although acoustically noisy, I found the room a pleasure to dine in.
This is the creation of Hanza, the owner of Marsala Indian restaurant opposite and Carim the talented Bangladeshi chef who together have devised one of the best examples of 'Fusion' dining to a high standard that this writer can recall. Although there are some conventional dishes in the menu, most have the influence of Spice in one form or another. Our trio chose to share three starters of Asian Fish cakes with a sweet chilli sauce, Panco crusted Prawns with a Teriyaki sauce, and deep fried spicy Calamari with lettuce lime and a sweet chilli sauce. To follow the girls had the Pan fried Sea Bass and Prawns in a Thermidor sauce with new potatoes Cherry tomatoes and green beans and for me a sizzling Beef Teriyaki with Peppers Courgettes Onion and baked Rice. To finish our meal a Tropical fruit salad with Mango, Papua, Pineapple, in a Coconut Liquor with a Raspberry Sorbet, and a Jam Sponge (as light as a feather) with custard and dried fruit. In presentation, Flavour, and generosity of size we could not fault any of our meal. To complete our pleasure all the staff that we came into contact with were knowledgably and friendly, to which Heidi, our Pilipino waitress added beauty as well.
As you may gather from this review, we will return.
The VS
Now, In what used to be Garla Brasserie is Cabana which can be found in Centro Commercial El Pila, number 6, on the N340 approach from the east and at km 168, when you see the Senator Banus Hotel on the left, take the exit and the restaurant is at the first slip road junction. Parking in the surrounding service roads. They open for dinner 7 days a week. Average 3 course meal with wine 35€. They have 80 covers shared between the main dining room and the terraces. Booking advisable in high season
on 952003473. Or email to reservations@cabanamarbella.com
Bishlin marks out of 5,
Ambience:5
Food:5
Service:5
Menu:5
Value:5
O/A:5
Please mention to the restaurateur that the restaurant was recommended in the "MarbellaFamilyFun.com" Newsletter.
To see even more reviews on the best restaurants in Marbella, check out The Bishlin Guide.