Dinner at Bistro Umami, Marbella, September 2017.
by Morris Bishop
(San Pedro de Alcantara)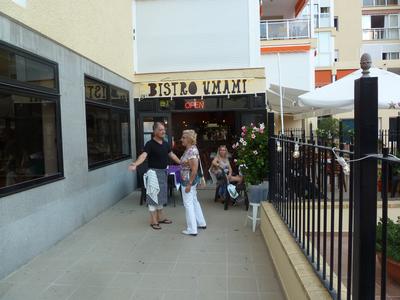 the approach to Bistro Umami
I think this is the third 'Umami' that half Swedish chef/patron Lee Varhos has opened in as many years, this time tagging it as a Bistro. I have always though highly of his culinary skills, so after our return from our UK summer sojourn, on finding out about his new venture we decide to sample what delights he has dreamed up this time.


Bistro Umami in the middle of Marbella is a quite basic yet quirkily decorated eating house with some 30 covers inside and a further 25 on the terrace, with no table coverings and what appears to be tea towels as serviettes, combined with hard wooden chairs which I suppose is in keeping with the 'Bistro' theme!
The menu however contained so many interesting dishes it was hard to decide what to order, but finally we chose for starters Foie Gras, scallops, Black Truffles shavings, and walnuts In a cream sauce, and Beetroot, Goats cheese, rosemary, Honey and Pine nuts, and mains of grilled calves Liver and Cherry Tomato with sauté potatoes, and an Argentine Entrecote Steak with broccoli, Chilli and Fries.
Before giving our opinion on the meal, Let me divert for one moment to try and define what UMAMI is. The Japanese word for the fifth taste after sweet salty sour and bitter that exemplifies the savoury nature of the dish that the human pallet craves for, which technically is the amino acid of Glutamate, which some Asian cuisines artificially create by the addition of the notorious chemical of MSG (mono sodium Glutamate) to otherwise bland food. This is not the case here as Lee manages to achieve such depth of flavours in all the dishes that we tried coupled with the obvious excellence of the produce that he uses and his skill in cooking them that we are planning our next visit as I write!. My wife's comment on the Liver was that in texture and taste it challenged the hitherto benchmark of Da Bruno's! A misunderstanding in our order taking by our pretty waitress Beisam saw my having Cepes, Shallots, sweet corn on a Rosti potato bed instead of the Beetroot dish, but hay-ho it too was delicious. The other waiter Dominica has a much better understanding of English.
The VS
Bistro Umami can be found in Calle Camilo Jose Cela (now one way to the west) which is the first road inland from the Paseo Maritimo starting from the Skol hotel, and is about 100 m. on the right set back from the pavement. Street parking is always difficult in Marbella but there is an underground car park at the junction 100 m back. Average three course meal with wine €30. At the moment their day of rest is Sunday but this may change to Monday. They open for dinners only, but I understand this too may change. The web site is chaotic and appears to be in Polish! But they do have an email address and phone number which TA do not allow me to give here but hopefully is on the TA heading.
Bishlin Guide marks out of 5
Ambience:3.5
Food:5
Menu:4.5
Service4:
Value:5
O/A:4.5