Dinner at Barrocco Marbella April 2015
by Morris Bishop
(San Pedro de Alcantara)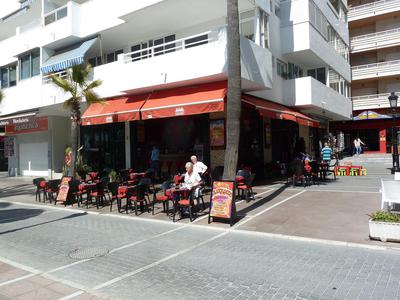 the Barrocco tapas bar
Just outside Marbella port on the Paseo Duque de Ahumada is the well known Tapas bar of Barrocco, which is where we did NOT eat, because el patron, Rocco, recently decided to open a restaurant by the same name, barely 50 meters up the road to the side of the


Tapas bar.
The eclectic décor including an illuminated building skyline and lots of other tastefully lit wall decoration making for a pleasant dining room seating 26, with a further 50 in the pedestrian walkway in front. I must admit I was not expecting such a well thought out and interesting menu, from which we chose starters of Goats cheese Salad, Gravlax with an avocado sauce, grilled King prawns, and a duck salad. The apparent simplicity of these 4 plates belied both the quality of presentation and taste, that far exceeded our expectations.
For mains, a Cod and tomato ratatouille dish, and because a particular dish was new to us, three of our party opted for Pluma de Iberica, after Luchano explained that this was 'Feathers' off the shoulder of Iberica pork (fed on Acorns, and with much less fat content than normal pork) and, although slightly over seasoned, was never the less delicious.
The knowledgeable and very friendly staff made for an enjoyable evening. Definitely one to be repeated.
The stats
Restaurant Barrocco is in Calle Acera de la Marina No 3.
Bookings on 951430613
Website www.barroccorestaurante.es
Parking in the Alameda or in the NEW Francisco Norte Car park (follow the signs in Avda Recardo Sorano)
Open every day for lunch and dinner.
Bishlin marks out of 5:
ambience 4
menu 4.5
food 4.5
service 4.5
value 4.5