Diner at Joffrey's, Las Mimosas, La Cala de Mijas Costa, November 2017.
by morris Bishop
(San Pedro de Alcantara)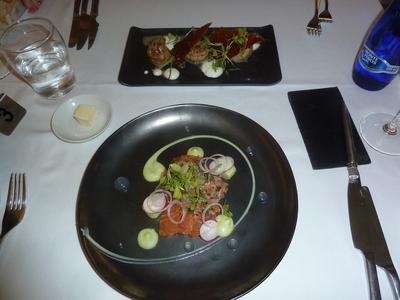 our starters
The first problem is to convince you, the reader, that this review in not OTT! Those of you that follow my writings will know that I am not averse to 'taking to task' any sub standards in cooking, service, or ambience. By the same token when I come across the delights that our foursome experienced this evening, I will shout it from the roof tops. Some 8 months ago the combination of a talented Frenchman and an entrepreneurial Dubliner came together to create their dream of a contemporary fine dining restaurant on the Costa del Sol. Chef Joffrey Charles and Maitra D' Lisa Burges have built a pleasant dining room, nicely lit, with comfortable seating and quality place settings, having 22 covers inside and a further 35 on the covered terrace used in the more clement months of the year.


The menu, though small, has a reasonable selection of starters and mains, but it is in the detail that raises our expectations to well above the norm. In the event we chose starters of: Pan Fried Scallops, cauliflower Purée, Crispy Ham, Apple Julienne & a Tangy Vinaigrette, Salmon Gravlax, Salmon Tartare, Avocado Purée, Cucumber Pickle, Lime jelly, Micro Herb Salad Shallots, and Goat's Cheese & Tomato Salad with Croquettes, Basil Jelly & Black Olive Oil.
Followed by mains of: Wild Mushroom Risotto with Smoked Garlic Croquette, Truffle Oil & Fresh Truffles, Fillet of Steak, Chunky Chips, Onion Purée, Sundried Tomato's, Wild Mushrooms with Pepper Sauce, and a Rack of Lamb & Confit Leg of Lamb, Micro Ratatouille (brilliant), Carrot Purée, Parmesan Crumb & Red Wine Jus.
Hopefully if all my pictures are published so that they will give you some idea of the presentation of each of the dishes, and the fact that 8 dishes were returned to the kitchen barely needing a wipe to use them again, will give you some idea of the delight to which they were received. Ok I should have ordered my Lamb dish Medium instead of pink, but this barely detracted from my enjoyment. The size of the portions almost precluded our ordering desserts, so we called for 4 spoons and a Cream Brule with Raspberry Sorbet just to clean our pallets. Our Bubbly waitress Georgia was both Attentive and informative. The fact that we all consulted our diaries to work out when we could visit again is the bottom line to what was (in this writers opinion) one of the top three meals I have had the pleasure of eating this year
.
The V.S.
Joffrey's can be found in Urb.Las Mimosas, which is half a Km. south west of La Cala de Mijas on The A7. Approaching from Marbella take the next exit after El Ociana at Km.200. Adequate parking in the service road. They open for lunch from Wednesday to Sunday with a set two course menu, and for dinner from Tuesday to Saturday with the A' La carte menu that can be seen on their website Average 3 course meal with wine 50€. Reservations on 658748919 or joffreyslasmimosas.com
Bishlin Guide marks out of 5
Ambience:4.5
Food:5
Menu:4
Service:5
Value:5
O/A:4.5
Please mention to the restaurateur that the restaurant was recommended in the "MarbellaFamilyFun.com" Newsletter. To see even more reviews on the best restaurants in Marbella, check out The Bishlin Guide.