| | |
| --- | --- |
| CostaJump | |
share this page with a friend
CostaJump is the first indoor trampoline park in southern Spain. Its arrival brings with it a massive indoor arena filled wall-to-wall with trampolines.
Step through the doors and prepare to unchain yourself from the shackles of gravity as you bounce around 50 interconnected trampolines in the free jump zone. It's a lot more than just jumping - there are great games and activities as well. Basketball Slam Dunk Lanes enable you to slam dunk like an NBA star. 
Or try a dodgeball game with superhuman jumping power. The facility also features a foam pit, just the thing for you to combine dreams with reality and perfect your aerial stunts!

The facility is also a venue of choice for special occasions such as birthdays, group parties or corporate events. Everyone loves to bounce, it's just kids who'll admit it! 
CostaJump gives you superhuman power!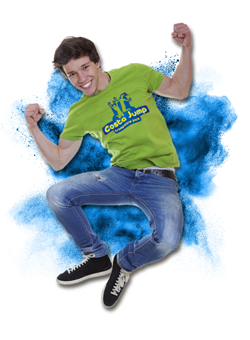 At CJ, you can get closer to the clouds, an area of the world that - until now - belonged to birds, and extreme sports! You will have the chance to experience the exhilaration of flying through the air. 
The immense centre not only features a sea of trampolines, but a viewing gallery too! If you don't fancy having the wind in your hair, you can grab a coffee or a drink, access the free WiFi and watch as the rest of world experiments with flight.
Contact info@costajump.com for details on their Birthday Party packages - a great way for kids and teens to celebrate!
There's something for everyone at this venue and all ages will have a blast. It's like exercising without the pain and the potential to burn up to 1,000 calories in one hour.
Top things to do here:
Sky jumping in a free jump zone including over 30 interconnected trampolines 
Slam dunk courts that enable you to jump and dunk like an NBA basketball star
Dodgeball with superhuman power creating a fast-paced and super-fun team sport 
Mini-Jump area for kids under 6 years of age to have an amazing and energetic time
Birthday Party packages for kids and adults of all ages to enjoy the facility 
CostaFitness training to help you burn up to 1,000 calories an hour - while having fun!
A NotE from CostaJump...
Due to discrepancies between the town hall And the company owner of the industrial estate in which costa jump is located, the town hall has decided that no activity can take place until the two parties solve their differences.
At costajump we have no influence in this decision, and we are truly saddened to disappoint our customers.
We Hope this inconvenience is solved as soon as possible.

www.costajump.com

Posted by CostaJump on Monday, October 26, 2015
An ideal venue for Birthday Parties for kids and teens

If you're looking for a high-energy birthday party venue, this is the place for turnkey fun. The team will get your whole group ready and make sure you're clear for take-off. During your party you will get the freedom to jump to the clouds with full access to everything the venue has to offer.
When it's time to land, your host will escort you to one of the party rooms to enjoy some well-earned chips, sweets, drinks, cupcakes and more!
Two Birthday Party Packages are available: Party"X" and Party"X-treme"
To book your party, contact them directly at their details, below.
Ever dream of winning a slam-dunk contest?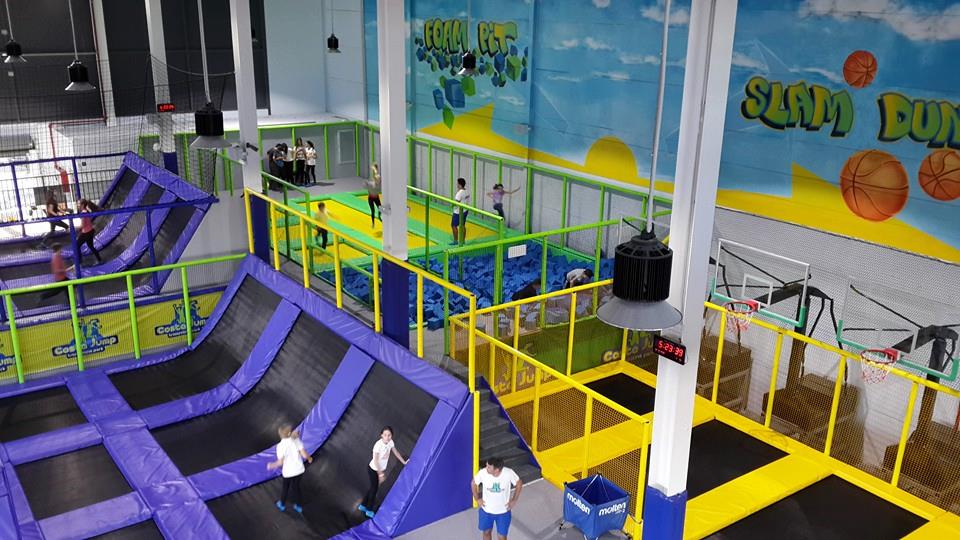 Thanks to the five trampoline basketball hoops at the centre, you can live the dream. Take a flying leap from court-side on to a trampoline, throw in a front flip, and jam it home. You may have the vertical leap of a turtle, but inside Helium Trampoline Park you'll feel like LeBron - an NBA basketball hero!
Or try a game of Dodgeball with a superhuman twist. Two teams line up against each other on a field of trampolines with angled trampoline walls to face off with foam balls. The rules are simple: if you hit an opponent with a ball they are out. There can only be one winner!
For more fun, try the Foam Pit where you can practice your aerial tricks or simply enjoy the freedom of flying through the air and landing in a soft cushion of foam cubes. The large 6,000+ foam cube pit is suspended by a trampoline to offer maximum safety when landing.
The MiniJump area is designed for kids ages 6 & under. Pricing includes one accompanying adult who can jump free for every child paid entrant. The MiniJump park is open for kids under 6 with an accompanying  the adult.  MiniJump have special times scheduled which you can find in the calendar on the website, below. During schools breaks, special events and holidays the times may change. Please make sure to check the calendar for availability.
Looking for a great, high-energy activity at the beach? Check out the website for CostaWaterPark for details on their multiple locations for seaside fun for the whole family.