Conrad's Il Ristorante - Nueva Andalucia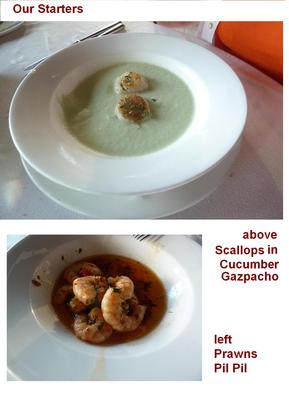 Starters
It must be 2 years ago that Il Ristorante in Compana disappeared into what we thought was oblivion, only to find out recently, courtesy of an article in the Weekend World that in fact they had Re-branded as Conrad's Il Ristorante and opened up in Avda del Prado. Double Michelin Star chef Renee & wife Sabine now have an eatery of over triple the size of the old one but with same ethos of serving Renee's twist on Italian cuisine, although many of his dishes are better described as international, they all are generous in size, cooked to perfection, and still as flavoursome as I recall from years ago. They bake their own bread, make all the dessert that are on offer, and have justifiably earned a high reputation, witness the long term following that they have. With about 90 covers, 50 of which are on the very pleasant terrace, with comfortable seats, tables that are well spaced and nicely set, and most importantly smiling staff that seek to please. Led by manageress Tola who hails from Poland and maitra'D Sabine leaving Renee do what he does best.


Their manageable menu has less the 30 item on it which you can either use as an a'la carte or create a 3 course set dinner menu with 3 optional price grouping of 25€ 35€ or 42€ with the lower band incorporating the 5 Pasta and Risotto dishes, the mid price having the more economical cuts of meat or Cod, and the premium list include Sole Turbot and Seabass - and for the carnivores Ossobuco and Beef Fillet for mains and a Scallop starter. All the mains in the last two groups come with fresh vegetables and potatoes.
Our party of 4 chose a Cucumber Gazpacho with Scallops (how interesting and delicious) - Pil Pil - Tuna Carpaccio - Goats Cheese & Apricot Salad for starters and mains of grilled Sole and a Loin
Of Lamb. Desserts of apple Pie with vanilla ice-cream - Crème Brulee - cheesecake completed our dinner. I have an intolerance to anything that is cooked in Olive Oil and so they cooked my order of Pil Pil in Girasol which was fine but their homemade bread had a little olive Oil in the dough, but with out moments hesitation Tola went next door and bought a Bara for me - Now that's what I call service. So Thank you Tola.
We have happily re-joined the followers of Renee culinary offerings and just rue the two years that we have missed!
DATE: June 2016
The VS.
Conrad's can be found in Avda. Del Prado in Nueva Andalucía just before Aloha Gardens, and it has its own private car park. A popular 3 course 15€ lunch menu with a selection of 8 or 9 starters, 8 mains, and a dessert menu, and is exceptional value. For dinner they have an A'la carte from which you can choose one of 3 price brackets of 25€ 35€ and 42€ value They open for Lunch and Dinner Tuesday to Friday and for Saturday dinner.
Bookings on 951319554 or 628593409 email info@conrads-ristorante.com
Website www.conrads-ristorante.com
Bishlin marks out of 5,
Ambience:5
Food:5
Service: 5✹
Menu: 5
Value:4.5 Dinner, 5 lunch
O/A:5
Please mention to the restaurateur that the restaurant was recommended in the "MarbellaFamilyFun.com" Newsletter. To see even more reviews on the best restaurants in Marbella, check out The Bishlin Guide.