Conrad's IL Ristorante, Nueva Andalucia, February 2018
by Morris Bishop
(San Pedro de Alcantara)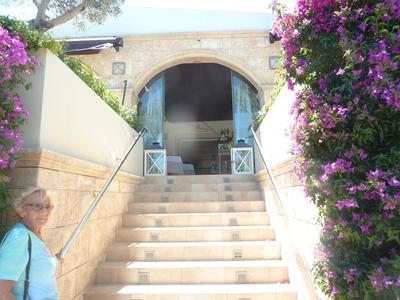 Difficult with a wheelchair
We always look forward to visiting Conrad's and introducing our friends to this consistently good eatery. Chef Renee and Maitra 'D Sabina's lunch time formula of 'Value with Quality' are legendary along the eastern end of the Costa del sol. A three course 17€ menu that gives choice of 7 starters and 9 mains, from which we selected Salmon Sashimi Sesame with a Gochujang sauce, Gravlax and Avocado with Yoghurt, Goats Cheese Salad with apricots and a Foie Gras Terrine and Fruit with Crostin. to begin with. Our mains were Teriyaki Breast of Chicken with Taboulé and Mango Pepper Sauce, Crispy Oven cooked Duck, and Wiener Schnitzel. We shared desserts of a chocolate Fondant with Ice Cream and Mango Ice Cream. In taste, quality, texture, and quantity all of the dishes that Renee produced left nothing to be desired. The service was exemplary, and the whole experience put a smile on all our faces.


The VS.
Conrad's can be found in Avda. Del Prado in Nueva Andalucía just before Aloha Gardens,
and it has its own private car park. When needs must you finds out all sorts of things about a restaurant that we though we knew well, but one of our party of four was wheelchair bound and there are a dozen steps to gain access through the front door. The car park man came to the rescue, gets into the car and takes us to the back entrance which is in Calle de las Torres (the road behind the restaurant which starts by Masala restaurant) in 200m. with no sign indicating it is Conrad's, look out for a Galvanized chimney by which there is a single short term parking place to disembark the wheelchair,. For dinner they have an A 'la carte menu. They open for Lunch and Dinner Monday to Friday and for dinner only on Saturday and their day of rest is Sunday. Lunch time Booking is essential
Bookings on 951319554 or 628593409 email info@conrads-ristorante.com
Website www.conrads-ristorante.com
Bishlin Guide marks out of 5
Ambience:5
Food:5
Menu:4
Service:5
Value:5
O/A:5
Please mention to the restaurateur that the restaurant was recommended in the "MarbellaFamilyFun.com" Newsletter. To see even more reviews on the best restaurants in Marbella, check out The Bishlin Guide.