Christmas Culinary Market in the Kempinski Hotel Lobby
by Sissi v. Wittgenstein
(Marbella-Estepona, Spain)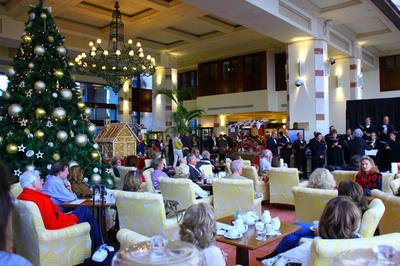 Enjoy traditional German Hot Wine
FOR UPDATED CONTENT ON THIS TOPIC,CLICK HERE.
The Christmas Culinary Market in the Kempinski Hotel Bahia Lobby was a huge success last year! So we will repeat the "German-Like-Christmas-Market" on Friday, December 7th and Saturday, December 8th, 2012 from 4pm until 9pm.
* Stands with homemade Christmas cookies, jams and sweets
* Traditional German sausages and German hot wine "Glühwein"
* Selection of delicious Teas and Coffees
* Christmas Carols from the Carol Singers of Estepona and the Children's Choir of San José School
Free entrance
Don't forget to bring your kids and photo camera, as the Lobby of the Kempinski Hotel with the huge Christmas Tree and the traditional Gingerbread House is worth a photo for the family album!
visit: http://www.kempinski-marbella.com and our facebook at http://www.facebook.com/KempinskiEstepona
Tel.: 952.809.500
----------------------------------------------------
Mercadillo Culinario de Navidad en el lobby del hotel
* Puestos con galletas, mermeladas y dulces típicos de Navidad caseros
* Tradicionales salchichas alemanas, vino caliente alemán "Glühwein"
* Variedad de deliciosos Tés y Cafés
* Villancicos con la Coral de Estepona y el Coro del niños del Colegio San José
Entrada libre
Viernes, 7 y Sabado, 8 de Diciembre a partir de 16:00 a 21:00 hrs
vista:
http://www.kempinski-marbella.com
y nuestro facebook
http://www.facebook.com/KempinskiEstepona