Chill Sea Lounge
by Morris Bishop
(San Pedro de Alcantara)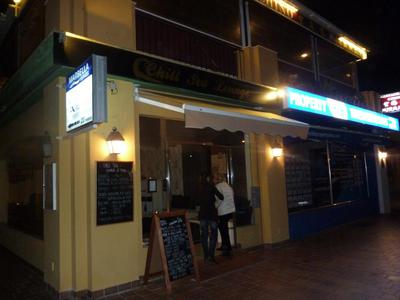 Marbella Chill Sea Lounge
New to the Costa del Sol, barely open for 4 weeks, is another fusion restaurant, this time with Japanese and Mediterranean influences.


Run by Brother and Sister duo of, Ali and Cip, who hale from Romania, but have been in Spain for over a decade. The restaurant is a Bar/Lounge area with 10 small dining tables and half a dozen two seaters and coffee tables.
First impressions are that of minimalism with predominately Black and White décor. My first grumble was in locating the place, as the sign outside is unlit (see photo) and does not stand out at all. In the end we had to resort to some telephone guidance. So to obviate this see the VS below.
The menu is grouped into all the Asian things you would expect to find, sushi and sashimi, Tempura, Noodle, Curries. Then there are Salads, and Grills.
We chose for starters, California sushi of Crab, avocado, cucumber and Tobiko (fish roe) and Prawn and vegetable Tempura. For our mains a Beef Thai curry With rice, and skewers of Teriyaki chicken with a Sate sauce, all very traditionally Prepared by the Chinese chef.
The meal was delicious, and copious.
Matra'D Ali goes to lengths to please her customers, even asking for ways to improve the dining experience that they have had, apropos that: Illuminate the Sign, halve the size of the Tempura pieces, and get some Hashi (Chopstick rests)
This was another one of Richard Codd's CoolDeals, and a nice one at that!
The VS:
To find Chill Sea Lounge exit the N340 at Diana, (which is the next exit after the Benhavise turn off), at the end of the slip road, where it all happens, Chill Sea is immediately on the right under the Chinese Restaurant.
Tel: 666426681
Email: alinaelena1777@hotmail.com
Parking in Diana is plentiful. They open for Lunch & Dinner from Tuesday to Sunday from 12:00 PM.
There is a children's menu.
Average 3 course meal with wine 27€
40 covers inside, and in the warmer months 50 outside
Bishlin marks out of 5:
Ambience 3.5
Food 4
Menu 3.5
Service 4.5
Value 4.5
Estepona, Diana
DATE: February 2015