C'est la Vie Restaurant in San Pedro de Alcantara
by Morris Bishop
(San Pedro de Alcantara)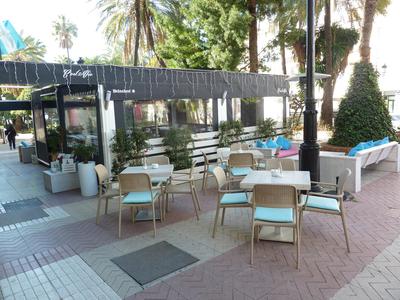 the outside terrace
C'est la Vie Restaurant in San Pedro de Alcantara February 2014


After just 5 months.
TANINO
's, the restaurant that I reviewed in September 2013 has changed hands, changed its name, changed the chef, and completely revised the menu.
Natalia is the Russian owner, CEST LA VIE its new name, Argentinean, Nickolas, is the new chef (he is ex
Umami
). Front of house Victor and his staff remain as does the décor, lighting and comfortable seating.
The well organized menu is sensibly divided into 7 groups:
Welcome, Sharing, Starters, 4 types of Salads with either chicken, prawns, or plain, Burgers & Wraps, Mains, and children dishes, plus additional indicators such as Contains Nuts, Contains Sea Food, Suitable for Vegetarians, Low Calorie, Spicy.
Apart from the Salmon and Sea Bass mains, all other dishes are Chicken, Lamb or Beef based. Talking of which, one of the burgers is made from 200gr. of KOBE Beef, where the cows are fabled to have been fed on a Beer diet! (16.50€), this is the second most expensive item on the menu, the top one being the Fillet Steak (22.90€) I' had the Kobe, burger which was prepared and served with taste, (no pun intended) Two of our party had the Soft Shell Crab Salad in Tempura, both agreed, that this was delicious.
The attention to detail and presentation was good, as was the interaction from the friendly staff.
Changes are fine, provided there is not a deterioration of standards, quality, or value, and in this case, I think there is actually an improvement.
So 'That's Life' as they say.
Situated at the 'quiet end' of Avda. Las Palmeras 15, (the main street) some 50 meters from the central roundabout that is over the tunnel. This small town is fast becoming THE place to be for gastronomic excellence, and I believe when the gardens, that are being constructed over the tunnel, are completed later this year, that this will enhance still further the attractiveness of "GASTRO-SAN PEDRO"
For reservations, Victor, the manager can be contacted on 952783394,
Underground car parking in front of the restaurant –
Average three course with wine 35€
They open from breakfast until late 7 days a week
Bishlin marks out of 5: Ambiance 4 food 4 service 4 menu 4 value 4 o/a 4