Casa 5 - Mijas Pueblo
by Morris Bishop
(San Pedro de Alcantara)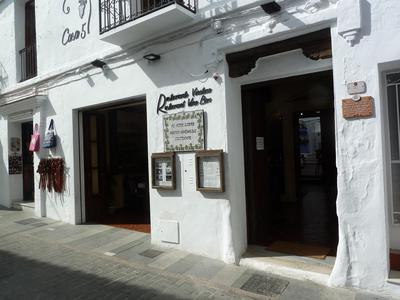 Casa 5
This is one of those 'several million to one' stories that happen by chance to all of us at one time or another. Our sister and brother in law join us in excursion up to Mijas Pueblo purely because we hadn't been up there for some 2 decades and we wanted to see what had changed in the intervening years. After eventually solving the problem of loosing the motorcar we start roaming around the village, looking in shops, and searching for any interesting restaurants that were not the average tourist traps. We eventually came across a nice looking wine bar that had a lovely tranquil terrace divided into 5 discreet areas at the back and that had a menu with dishes in it that screamed out 'EAT ME'. What we were about to find out is that by accident we had 'fallen on our feet' and were to experience an exceptional meal produced by the talented chef Pedro.


David our waiter Guided us through the well organised menu from which we chose starters of Gazpacho with Goats cheese crumble, cucumber shavings and olives, Grilled Octopus, lemon and lime with Robuchon potatoes (rich potato puree), and Cauliflower Cream, which consist of a dish of puréed cauliflower with Mahon cheese, roast garlic and Quince. Followed by mains of Monkfish with Prawns and Basmati rice, and a grilled red tuna with caramelised Garlic and a parsley emulsion. In size the dishes were just over 'Nuevo Cuisine proportions, but all of us agreed that it was sufficient. What was outstanding were the flavours and textures of everything that we ate, such that we insisted on meeting and congratulating the chef.
Just after finishing our meal, a party of 6 sat at an other table on the terrace, and my wife turned to me and said " I'm sure I recognise two of them! and so she approach them and between them delved into where we knew them from, then realised that they were Nikki and Pepe, the developers and operators of Aquarius Tennis Village on Riviera del Sol, which back in 1988 was our home in Spain. After chatting about old times we mention that we had just had a memorable meal only to learn that Nico, the owner of the restaurant, was their son!
In a second renewal with old friends we visit Jason Godwin at Mayan Monkey chocolate factory who I knew from the days when he headed up the IT company of Mercury and I asked him about the transition into being a Chocolatier, to which he explained that he had only gone from Megabytes to Mega-bites!
The VS.
Open for just 5 months, it is not the simplest place to find, but from the main square in Mijas pueblo, Plaza Virgin de la Pena, standing with you back to the multi story car park, walk directly across the square to the stairs leading up the upper levels and this ends up in C/ Malaga, and just to the right is Casa 5. They seat 30 inside and a further 40 on the terrace. Average price of a 3 course meal with wine 35€. Open for lunch and dinner weekdays and Saturday, and for Sunday lunch, with Monday being their day of rest
Bishlin marks out of 5,
Ambience:5
Food:4.5
Service: 5
Menu: 5
Value:4.5
O/A 4.5
Please mention to the restaurateur that the restaurant was recommended in the "MarbellaFamilyFun.com" Newsletter. To see even more reviews on the best restaurants in Marbella, check out The Bishlin Guide.
DATE: October 2016