Carisma
by Morris Bishop
(San Pedro de Alcantara)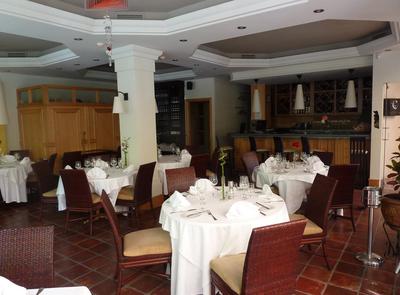 Carisma Dining room near Marbella
Open for just 8 months, the word has spread about this restaurant, and all that I have heard was good.


The pleasant dining room was both comfortable, and serine, our waiter Gonzalo, attentive, and the charming owner, Cristina, who hales from Ukraine, was welcoming.
There are so many temptations to try from the manageable, but so interesting menu, that I could see us returning soon.
But, for now, which of the dishes shall the four of us choose?
For starters a Goats Cheese, Peach, cherry tomato salad with a Greek Yoghurt Vinaigrette - Teriyaki Salmon Salad, and Scallop Ceviche* in, (quote from one amongst us) "a most magnificent Sauce".
Three of our party could not resist the Tortellini Lobster and Zucchini (Courgette) in a Roasted Cherry Tomatoes and a Parmesan Cheese Sauce for mains, and I had the Beef Entrecôte, with Salad and a Port Wine Reduction.
The dessert menu proved no less of a temptation with dishes like 'Coronel' Passion Fruit Cake Sablé Tart with Passion Fruit Cream, Mango Coulis, Pineapple Tiles and Ice Cream, but we finally succumbed to Banana Flambé and Crepe Suzettes prepared at the table.
(see photo)
However, I think the latter would have been even more enjoyable if slightly thinner and with more of the Grand Marnier flavour retained in the Orange sauce
But that, was the only tiny niggle for the whole meal - thus my rare 5 marks for food.
Mikae, the very talented chef from the Czech Republic should be very proud of the culinary delights that he creates and the flavours he achieves.
The V.S
* Ceviche is the process where raw fish is cured, usually with Lemon Juice, rather than by
cooking with heat
Carisma can be found on the corner of Avda. De la Constitucion and C/ Andalucia,
(for those of you who recall Caruso, that's where it is)
They open for Lunch & dinner and their day of rest is Sunday
Bookings on 952782293 or at mail@carisma-restaurant.es,
web site www.carisma-restaurant.es
Street parking (blue zone is free after 20:00 h.)
Average three course meal with wine 35€.
Seats 60 inside with a further 14 on their terrace.
Bishlin marks out of 5:
Ambience 4.5
Menu 4.5
Food 5
Service 4.5
Value 4
DATE: May 2015