CAPTAIN AMER CANYONING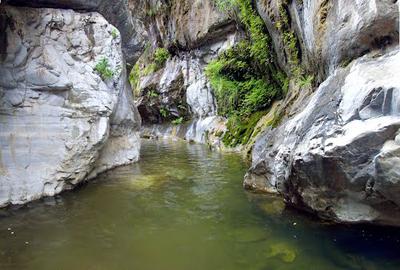 ** MENTION MARBELLA FAMILY FUN FOR A SPECIAL OFFER **


Come and enjoy an outdoor expearience with Captain Amer, canyoning near Puerto Banus. A fun event for family and friends to journey back to nature - suitable for all ages.
Canyoning is a fun outdoor sport that consists of gentle walking and swimming in a river decent with pools where one can walk on stones and and at the same time climb and jump. Of course, there will also be some swimming!
Captain Amer has worked with many families for more than 10 years in Marbella and will give instruction on techniques to make it a fun and memorable experience.
Canyoning takes place near Marbella and offers breathtaking scenery in an amazing natural invirement.
59 EUR for adults
29 EUR for kids (under 12 years of age)
49 EUR per person for groups of more then 4 persons
Special footwear is provided. We will also have a waterproof camera to record your fun moments - pictures copies are free!
Email: capt_amer1@hotmail.com
Check Captain Amer Facebook pages at:
Captain Amer Safari Trips Marbella
Captain Amer Canyoning Marbella
Contact Captain Amer directly
+34 663 328191 (Whatsapp)