Calasanz Woman Marbella hairdresser
by Calasanz Woman
(Marbella)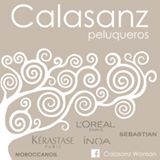 Calasanz Hairdresser
Find the best value as well as fresh, contemporary hairstyle trends at Calasanz Woman Marbella hairdresser.


Calasanz Woman was founded by Maria Jose, a qualified hairdresser with 20 years experience offering haircuts, styling, hair treatments, manicures and pedicures for women, men and children. You'll find Maria Jose at Calasanz every day, working alongside her team to deliver an extraordinary level of service and quality to each client. She consistently receives positive feedback from expat women in Marbella as can be seen from the comments at the bottom of this page.
Can you imagine having fantastic hair all day?
At Calasanz hairdressers it's possible! They have the best treatments for every need.
Nubea
is a specialised treatment for the health of the hair which treats from the hair bulb, wiping and removing all the toxins accumulated in the roots of the hair. In the second session the customer will notice the hair more dense and healthy, thus avoiding possible breaks. You will notice more brightness, helping its colour, cut and fabulous hairstyle.
Alongside the Nubea, they offer treatments such as:
• Desintoxications
• Hair loss prevention
* Antidandruff
• Purifying treatment
* Auxilia
* Synergo Serum
Davines
is an intensive treatment with oils, in combination with keratin leaving the hair shiny, silky, manageable and Frizz free. It is restorative and restful.
They have
ultrasound and infrared
irons for specific hair treatments. It is the combination of infrared and ultrasonic vibration that improves and enhances the effectiveness of the products used.
Acid hyaluronic
is a specific system for the control of volume and frizz, that restores and strengthens the hair, making it more bright, silky and docile to comb. Fact-based seed oil flax, hyaluronic acid and keratin, no sulphites or paragons.
Kerastase fusion-dose
is a cocktail for your hair a cocktail of active ingredients, tailor-made for a sublime transformation of hair in just minutes.
Steampod
the first treatment of hairstyle of vape-activation with Pro-keratin that reconstructs and protects the fibre. It provides an extreme shine and a smooth long lasting effect.
Taninoplastia
made of enzymes, avocado oil and the tannic acid developing an exclusive system, which leaves your hair smooth and activated thanks to the heat. Enzymes get that chemical reaction it elapsing at a higher speed, the tannic acid gets a molecular restructuring and avocado oil provides hydration to the hair.
Joico
exclusive treatment of 4 steps to nourish and restore hair fiber after the damage caused. This innovative treatment allows us to reconstruct, increasing the brightness, strength and smoothness, returning to the hair 20 amino acids necessary.
Kerastase Discipline
Control of hair with absolute motion. It is a treatment flagellant, Restorer, which provides control of the hairstyle. It is not chemical, does not modify the structure of the hair and leaves it rigid.
Permaholic revolution
of the volume.
With Permaholic you can get all the nuances of the volume, from the simple support of the root until the more defined curl.
The permanent traditional difference is that it does not break.
Redken Chemistry
a cocktail made of vitamins offers 5 shots that can be mixed with each other to provide a concrete point benefit where there is the problem, either keep the color, brighten hair, for porous hair, heavy hair or personalised types.
Chronologiste
is an ideal ritual for dyed hair that strengthens the scalp. It is made with caviar, which is rich in amino acids, trace elements and iodine. It has incredible revitalising properties.
Color
with treatment in Calasanz always apply the Replex coloration. It is a treatment that also regenerates giving your hair more shine and it is more durability.
Replex hydration
repairs and seals damaged hair during chemical treatments. It provides additional nutrition to hair and makes it healthy, strong and full of life.
Living Proof
is built on the basis of a scientific principle. It has new patented molecules that repel moisture and dirt, smoothing the cuticle and providing a perfect volume.
Screen range organic
brings your hair back to its natural rutes, this treatment uses certified organic ingredients, natural products, raw materials, pure and effective. Free of paragons and silicones.
Diamond Filler
is a professional anti-ageing, regenerating hair quickly. Its action revitalises, eliminates dry skin, brightens and brings new life to the hair.
Calansanz is conveniently located in the La Colonia Commercial Centre near the
San Pedro Boulevard
, so it's a perfect place to have your hair done before enjoying a lunch in the sun or an afternoon coffee in a beautiful part of town.
The salon is open Monday to Saturday and offers the latest technology in hair treatment, including
Fiberceutic Hair Botox
, a revolutionary product by L'Oreal. The product delivers:
• Capillary filling of your hair helping extremely damaged hair.
• Special molecules attach to keratin-lacking areas.
• Deep reconstruction starting at the root of the hair fiber.
• Newly restored healthy hair with a natural silky touch.
• More effective with each wash.
• Ideal for fragile, brittle, colored or highlighted hair.
Result:
Stronger silky hair with volume and body.
Calasanz is also a
Top Spot
for Hair Salons in Marbella on TopCitySpots!
Calasanz offers a wide variety of treatments so we recommend you contact them directly or stop by the salon for a free consultation. You can make an appointment at their details, below:
CONTACT
Tel: +34 952 789 274 (English, Spanish and Russian)
Address: Centro Comercial La Colonia, Local 11 29670 San Pedro Alcántara
Web:
www.calasanzpeluqueria.com
Email:
calasanzwoman2012@gmail.com