Boardwalk
by Morris Bishop
(San Pedro de Alcantara)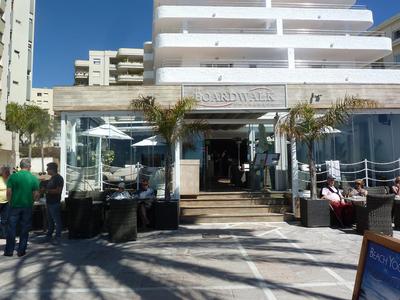 Boardwalk in Marbella
The Boardwalk on Marbella's Paseo Maritimo is one of those restaurants that are open all day and half the night and, unless you want an Indian, a Chinese, or a Thai meal, they will have it on the menu.


There are about 200 items split into some 16 sections, ranging from a humble cup of coffee to a 3-course meal with all the trimmings. This is the formula devised by 'el patron, Howard Holland, who is also involved with Le Petit Bistro and Slaínte, both in Nuevo Andalucía.
I'm not usually a fan of the 'all things to all men' eateries, but this one seems to have achieved a combination of quality food, imaginative presentation, good value, and with one small exception, excellent service, for me to give them the thumbs up.
I will not attempt to detail what they serve, but suffice it to say that it starts with Breakfast, then to Elevenses, until their Lunch offerings, followed by 'High Tea' would you believe! Before starting the evening service, with odd snacks and drinks of all sorts available throughout the day.
We shared two starters of baked Camembert salad and a Nachos dish, which was yummy. This was followed by 3 of us opting for the char grilled Fillet steak, and one of us the En'Crout Salmon.
For dessert we all craved the sticky toffee pud.
We, and I refer to all four us! were delighted with our meal, and the bottom line is I am a convert! We will return.
The Stats:
The Boardwalk is Just west of Da Bruno's corner on the Marbella Paseo Maritimo in Avd/ Fontanilla 29602.
Reservations on 952864736 or restaurant@theboardwalkmarbella.com
See the menu on their website www.theboardwalkmarbella.com
About 70 covers in the restaurant and a 15 or so on the terrace
Parking in Avda. Arais Maldonardo 150 mt
The sisters Kara and Penny share the Maitre'd's job
Our jovial waiter from the Algarve was Jairo.
Open from 10:00 to midnight 7 days, with live entertainment on most of the days.
Average price of a 3 course meal with wine 30€
There is a children's menu, and a fixed price menu del dia 14.85€ for 2 , and 18.95€ for 3 courses.
I don't like to be rushed during a meal, but the 40 minuets wait between starters and mains was the one small exception I mentioned above, but because all the staff we came in contact with were so helpful, informative, and showed such enthusiasm, we forgave them for that!
Bishlin marks out of 5:
Ambience 4
Menu 4,5
Food 4.5
Service 4.5
Value 4.5
O/A 4.5
DATE; June 2015