Bistrobar Ambrosia
by Morris Bishop
(San Pedro de Alcantara)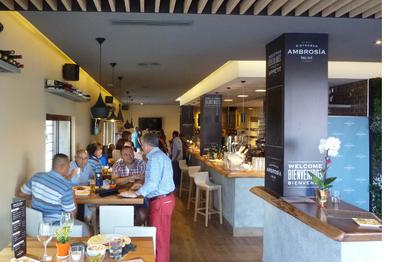 Bistrobar Ambrosia interior
Continuing with my reviews of the restaurants, on, and surrounding the Boulevard in San Pedro de Alcantara, I came across Ambrosia when walking along the north side, and saw a beautiful, tactile, piece of wood being unloaded and taken in to a premises being fitted out. To my surprise, I find that it was yet another restaurant that was about to open in a few days time.


I met the owner, chef, and manager and they told me a little about what their plans are for the restaurant, and then, they promptly invited me to the opening party!
The piece of wood, I discover, is for part of the bar counter, which in total must over 8 meters long. This, and the quality of all the fitments, lighting, décor, and kitchen appliances being installed, lead me to conclude that this was going to be somewhere special.
Wednesday 10th - Opening day
Although we had a prior engagement, we visited them to wish them well in their new endeavor, and to sample some of the best Pata Negra I can recall.
Saturday 13th
We lunched at Ambrosia, and from the Spanish Menu ( English version next week) that needs studying to get to grips with the dozen or so headings, we selected a Pate de foie gras to share, and to follow, Lamb chops, and for me, the Iberico Pork Fillet. Both served with al dente vegetables and baked potato wedges.
Desserts were a chocolate & orange Mousse and a Tart Tatin. All the dishes were delicious, if homely in presentation which is very much in keeping with the 'Bistro' theme. I later learn that their dish warmer hadn't arrived, which explained the cold plates!
However, this is a very pleasant, and comfortable dining room and al fresco area. Just a little more schooling in the service department would be a plus, but It is probably unkind to review an eatery that is only 3 days old, although, taking everything into account, they are definitely on to a winner, and we will be revisiting them in September after our summer break from the coast.
The Vital Stats
Ambrosia is on the north side of the Boulevard San Pedro de Alcantara in C/ Hermanos Alvares Quinter0 20- pta 3 - reservations on 952781310 - no email or website yet.
The Owner is Parmod (who answers to Paul) Miguel is the Matra'D and the ex Kempinski chef Is David. Our waiter was Gerade and they are all English speaking.
On the delightful terrace they seat 40 and there are 50 covers inside. Average 3 course meal with wine 30€ They open at 9:30 for Breakfast, Lunch and Dinner with no closing day.
Bishlin Marks out of 5:
Ambience 4.5
Menu 4
Service 4
Food 4.5
Value 4
O/A 4
DATE: June 2015