Bijou Bistro Bar Marbella February 2014
by Morris Bishop
(San Pedro de Alcantara)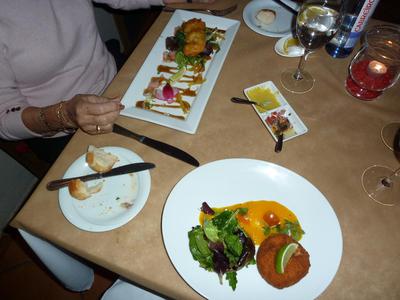 our starters
Having been there for four years, why we had not heard of this one is a mystery!


In January, by chance, we were recommended to, and signed up with Cooldeals.
One of the first thing we found was an offer from the Bijou. It looked so tempting that we
Said "What have we got to lose"?
The discovery of this intimate eating house became a revelation. Seating only 20 diners inside, and 50 on the terrace during the warmer months, with comfortable chairs, simple, but pleasing décor, subdued lighting, and barely audible background music (the way it should be) it made a good first impression.
.
The menu of 10 starters all look tempting enough that I could have easily ordered any one of them, but we decided on the Thai fish cake with mixed leaf salad and a chili Mango sauce, and the Tempura King Prawns with pickled ginger and an oyster sauce.
This was when we first became impressed with the chef. There's good reason why there is no salt or pepper on the table - because the seasoning and flavour balance of both these dishes (to my pallet) could not be bettered.
From the main course menu of 8 dishes, we selected Peppercorn Rib Eye Steak, French fries, and vegetables, and, the Calves Liver with Onion, Bacon, potatoes, vegetables, and an interesting sauce of Apple Balls in a sweet sauce.
Suffice it to say that this only served to deepen our admiration of, who, we later found out to be, Divina, the Ecuadorian chef. Five stars for her gastronomic prowess!
Bottom line: We wanted to come back the next day but they were fully booked!
Stats.
El Patron, Barry Singer, has a well schooled and knowledgeable waiter, Javier who also hails from Equador and speaks excellent English.
A full house dictates that bookings are essential on 95277 6468
The Bijou opens for dinners only,
Their day of rest is Monday.
They can be found in C/ Huerta Chica, which a small road just west of the 24 hour chemist in Av. Recardo Soriano, Marbella
To see their menu visit their web site www.bijoumarbella.com
Two alternative under ground car parks: one, under restaurant La Pesquera, the other in La Alameda.
Average price of a three course meal with wine €40
Bishlin marks out of 5:
ambience 4,
food 5,
service 5,
menu 4.5,
value 4.