Basketball Camp in Marbella - 4-9 July 2016
by Justine Haughey
(Estepona)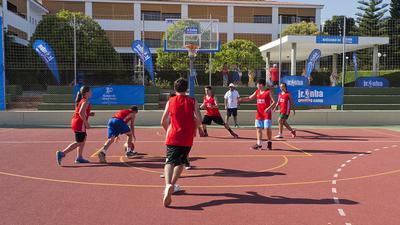 Basketball Camp in Marbella
The NBA has joined forces with the GIGANTES del Basket magazine to present a basketball camp where players aged 5 to 17 will be able to live the unique NBA experience. This will take place in Estepona (Malaga) from 4th July to 9th July.


At this summer camp we will work under the methodology followed by the teams playing the best basketball league in the world: individual techniques/tactics suited to each player's level through intensive training sessions, keeping a close eye on their individual progress.
We will instil the sporting spirit and values that are present in the NBA: sportsmanship, teamwork, respect, hard work, desire, attitude, intensity and passion for the game.
Our aim is to develop sports skills and, through basketball, develop positive attitudes while enjoying unique and unforgettable experiences within the framework of the NBA.
Web:
www.gigantes.com
Tel: +34 91 113 66 97
NBA conjuntamente con la revista GIGANTES del Basket organizaran en Estepona, Málaga del 4 de julio al 9 de julio un campus de baloncesto donde jugadores y jugadoras de 5 a 17 años tendrán la oportunidad de vivir la experiencia única de la NBA.
En el campus trabajaremos con metodología propia de los equipos que disputan la mejor liga de baloncesto del mundo: técnica/táctica individual adaptada al nivel de cada jugador a través de sesiones de entrenamiento intensivas con un seguimiento continuo de la progresión individual.
También trabajaremos en la transmisión de los valores que conlleva la práctica del deporte y que están presentes en la NBA: deportividad, trabajo en equipo, respeto, liderazgo, sacrificio, intensidad y pasión por el juego.
Queremos desarrollar habilidades deportivas además de, a través del baloncesto, desarrollar actitudes positivas y disfrutar de experiencias únicas e inolvidables en un marco NBA.
http://www.gigantes.com/jrnbacamp/